Did you know there are roughly 6,500 spoken languages throughout the world? According to Wikipedia, 21 of those languages have at least 50 million speakers, and 10 of those languages have over 100 million speakers.
Why am I throwing out language statistics in a business blog? Because it has big implications for business. If you're a large international company, or just a company that wants to sell products in other countries via the web, language is a massive barrier. Specifically, not everybody speaks your language.
If you want to sell to those who don't speak your language, what do you do? Some companies create separate versions of their website and web apps for every language. Not only is that extremely time-consuming, it's also quite expensive. You'd have to bring in translators for the initial job, and then again for any change thereafter.
Here's my question: What if web app translation was completely automatic? What if you could instantly build web apps in as many languages as you wished?
Let me explain how that could work. In case you missed it, we released a mobile upgrade to m-Power a few months ago which lets one application appear native on any device (PC/tablet/smartphone). This is possible thanks to n-Tier architecture, which lets one application have multiple presentation layers. Now, what if we applied this same concept to language? Here's an image that illustrates the idea. Keep in mind that while the image only shows two languages, this concept applies to any number of language-specific presentation layers: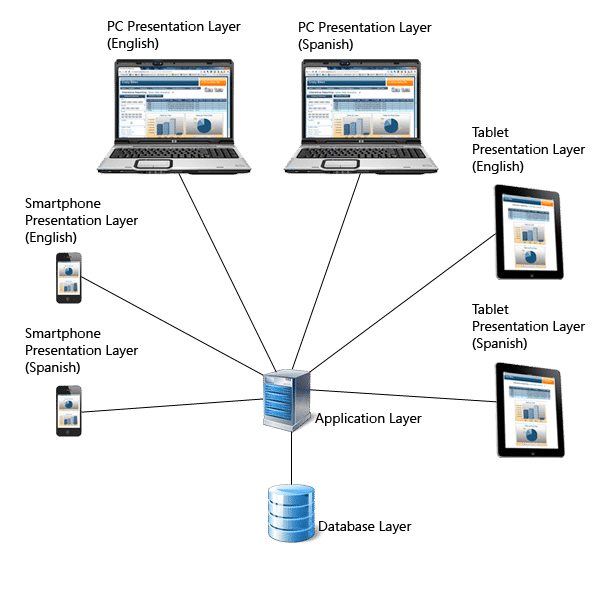 The idea is simple: What if you could automatically generate presentation layers in different languages every time you built a web app? This would save time in a couple of ways: First, you wouldn't need to hire anyone to translate your web app. Secondly, there's only one underlying application. Any changes made to the application reflect across all presentation layers, regardless of language. This drastically simplifies maintenance.
If this idea sounds interesting to you, stay tuned. I'll be covering it in more detail in the coming weeks.