Filters include the following features:
Improved "Is in the List" and "Not in the List" options, allowing developers to have a nearly-unlimited number of list values.
Clearer instructions for developer inputs such as: Constant values, Application field values, and Runtime Value Prompts (where applicable).
Improved Range and Null options, taking the guess work out of creating these types of filters.
This document will discuss several of the filter features.
Relationships
While all existing relationships remain, some have been significantly improved. Each of these will be noted below.
Is in the List/Not in the List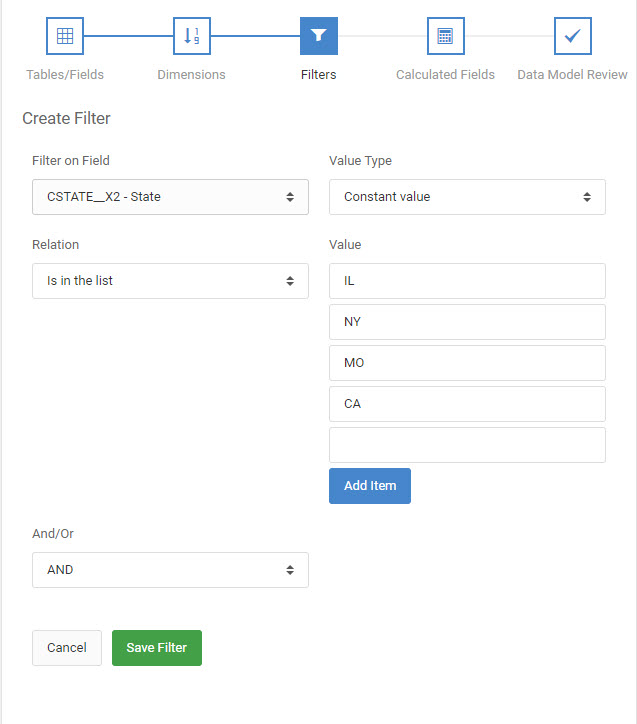 A common complaint with the previous Filters were the List values were limited to a handful of characters. Now the amount of list values you enter is nearly-limitless! Simply put each value of your list in a separate input box. Need more? Just click on the "Add Item" text to insert more input boxes. Additionally, if you choose "Runtime value(s) prompt" for the Value, your end-user will have the same functionality at run-time.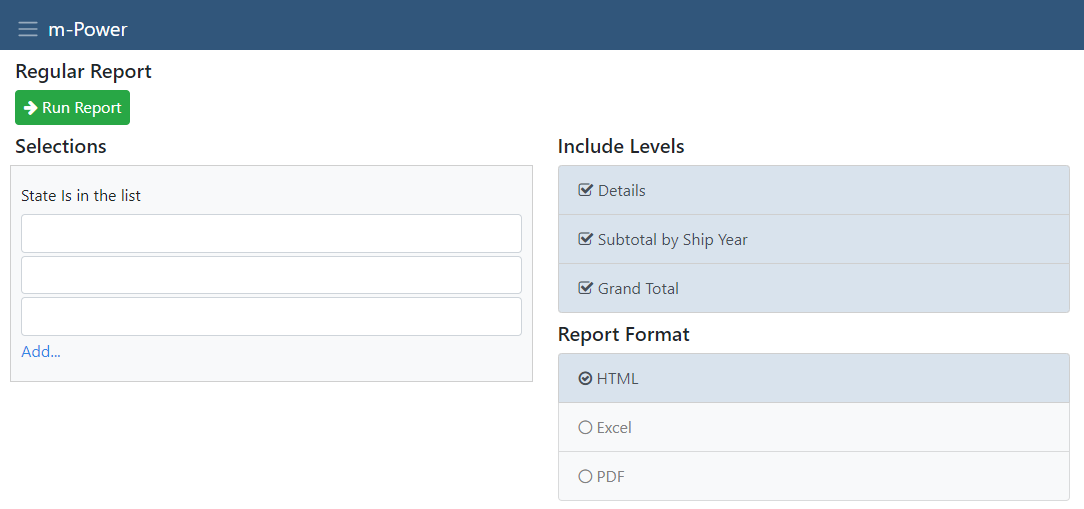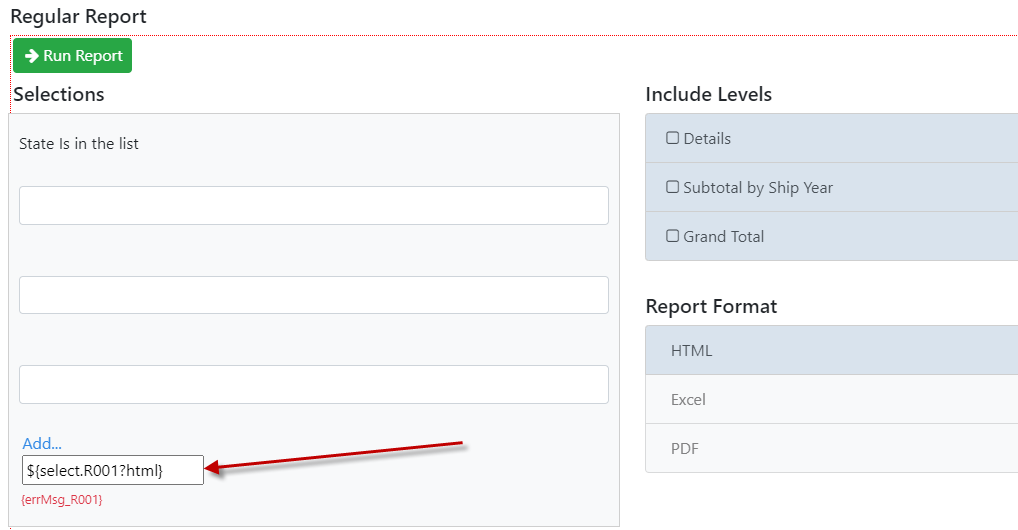 Is in the Range/Not in the Range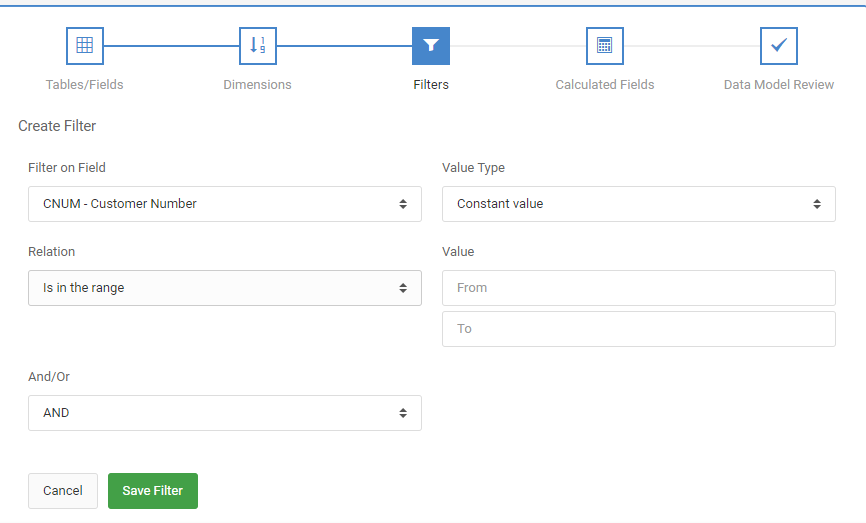 When an "Is in the Range" or "Not in the Range" relationship is selected with "Constant value" selected, you will see two input boxes for your Range value. Simply add each end of the range in the appropriate input box and click "Save Filter".
Is Null/Is Not Null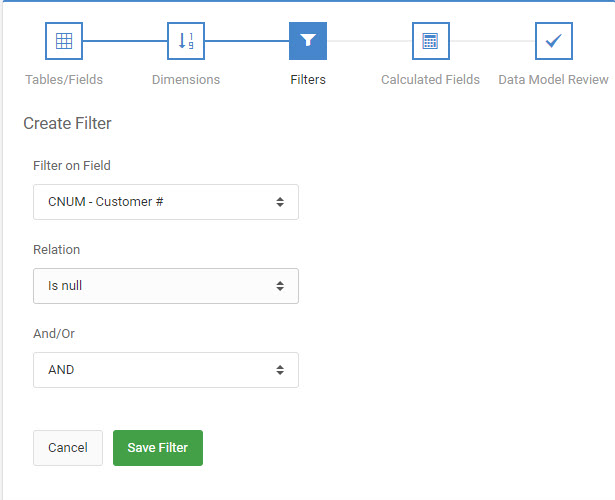 If you decide to use the relationships of either "Is Null" or "Is Not Null", you will see all "Value" options removed from the screen. This is done intentionally as no more input is required from the developer. Click "Save" to finish this filter.
Dates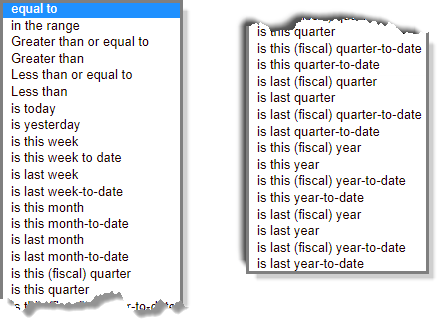 When a true date field is selected as the filter field, new date specific options become available for the relationship dropdown. Common date values include today, yesterday, this month, etc. To allow the end-user to perform runtime period analytics where they can compare date ranges against one another, use the 'Period Analysis' relationship. Full documentation on this feature can be found here.
Value Options
Constant Value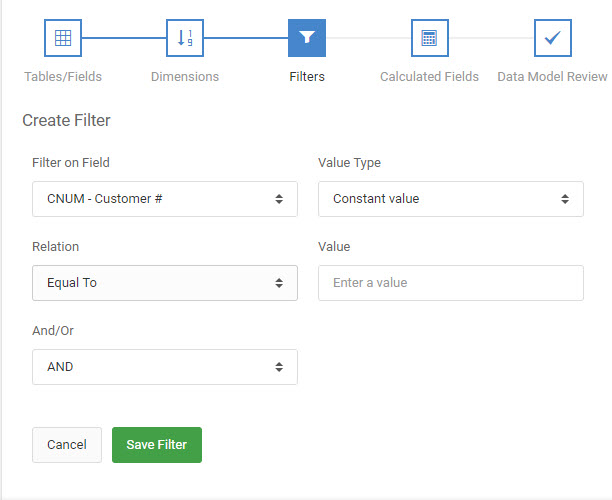 This is the basic Filter screen. By default, when creating any application you will have the option, as developer, of specifying a constant value as a filter for this application. This filter cannot be modified by your end-user.
Application Field Value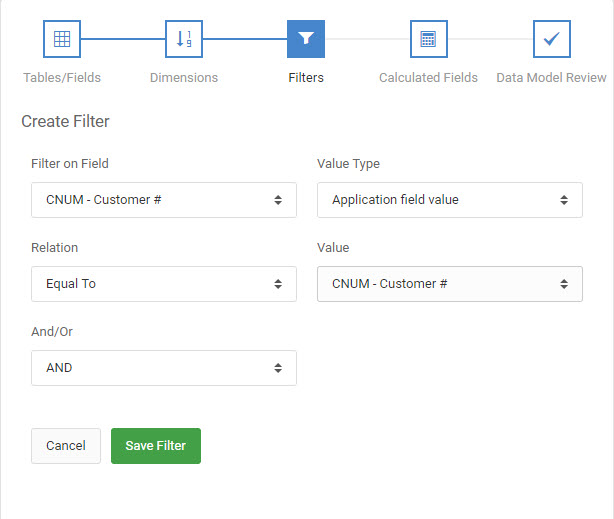 This option allows you, as a developer, to specify a filter by comparing one field in your application to another field. You can only compare like fields (Numeric to Numeric, Alpha to Alpha, etc.). In addition, only certain relationships will allow this comparison option. When a relationship is not allowed, "Application Field Value" will be removed from the Value drop-down option.
The relationships that allow this comparison are:
Equal
Not Equal
Greater than
Greater than or Equal to
Less than
Less than or Equal to
Not greater than
Not less than
Contains
This filter cannot be modified by your end-user.
Runtime Value Prompt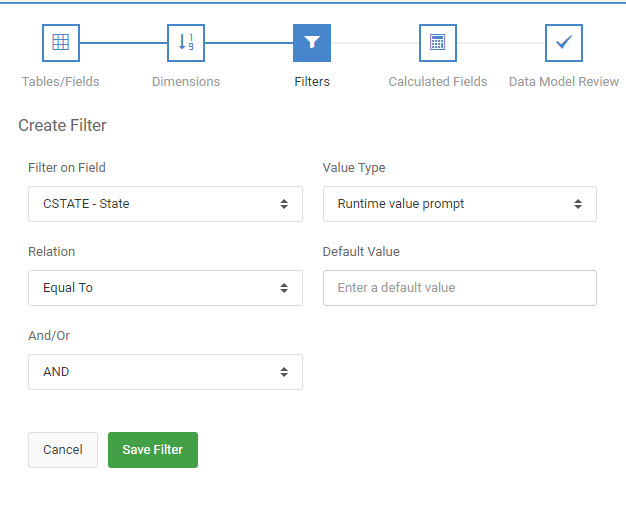 The final option you have for filters as a developer is to allow the end-user to decide at runtime what their filter should be. This option is called "Runtime value(s) prompt". This option is only available when creating Reports or Summaries.
Default Value
When utilizing the Runtime Value Prompt option for filters, you have the option of defaulting a value. At runtime, the entered default value will display in the runtime filter input. The end-user has the option of changing this value if wanted. If using run=2 and not specifying a value for the filter, the default value will be used.
Reordering & Grouping