Converting Remote BED mrc-Productivity Series Install to m-Power on a PC Server
Here is the Scenario:
You are a current mrc-Productivity Series customer who is running BED from a remote PC server. Your application server (usually Tomcat), is not running on the AS400, but on an Intel PC.
You want to upgrade that instance to m-Power.
You want to migrate all existing applications to work within that environment.
Here is what you need to do:
Contact mrc at 630.916.0662 (in the UK call 0208-322-7720) to convert your account to m-Power. We will also send you a new license file via e-mail. Please save this as it will be necessary later on in these instructions.
Once your account has been migrated you will be able to sign-on to the customer Portal by clicking here. Your username and password is your AS400 serial number, no leading zeros or dashes are needed.
Click the m-Power link under the Update column.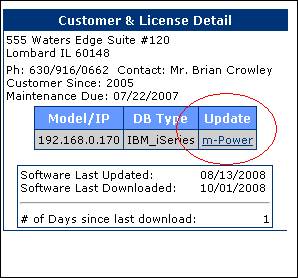 Download the update. (Note: If you are using your workstation to download the file, please copy the file to your Intel Server after download is complete.)
If Tomcat is currently running on your Remote BED instance, please stop Tomcat.
Extract the files to the c:\ location. Note: Your applications will not be overwritten, but the Productivity Series logic will be overwritten with the m-Power logic.
Next, navigate to c:\m-power\mrcwebgui\. Delete the file bed.properties. This file is no longer needed as you are upgrading to m-Power.
Lastly, copy the license file you received in Step 1 to the c:\m-power\proddata\conf folder.
Start Tomcat.
Congratulations – you have successfully converted your mrc-Productivity Series environment to m-Power.
Note: In the future, when taking m-Power updates, simply follow Step 4 through Step 6.
Related Posts: