Many developers of m-Power are familiar with encountering HTTP 404 and HTTP 500 pages in the event a request for Apache Tomcat is not found or cannot be handled by a servlet (application). For instance, going to this URL http://YOUR_MPOWER_SERVER_ADDRESS:8011/mrcjava/servlet/MRCWORKLIB.R01234x would throw an error similar to this first screen capture.

In production environments specifically, it can be desirable to provide end-users a more user-friendly and instructional message, which can guide them back to a home page or dictionary menu, such as this example shown below: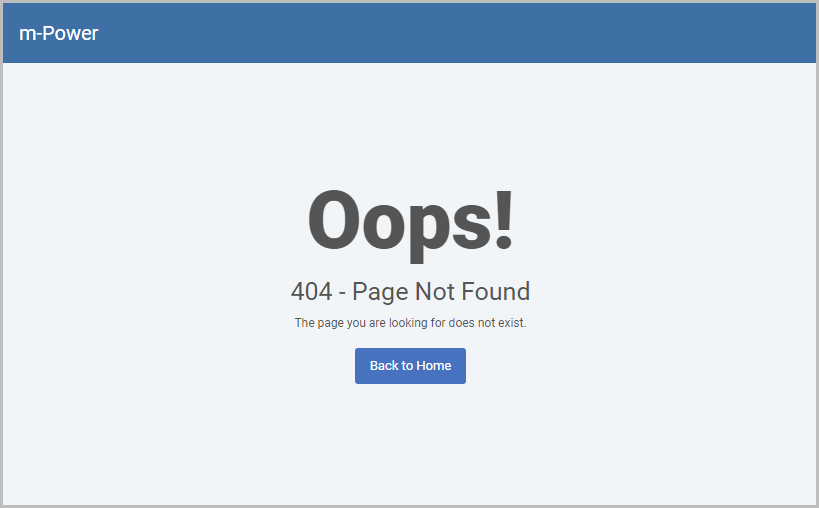 A error page such as this one is completely customizable with your own HTML & CSS. To customize your own HTTP 404 and 500 error pages, simple create a new directory called 'errors' in …\m-power\mrcjava. Within this folder create a 404.html and a 500.html file. Note: You may download and utilize these 404.html and 500.html pages if you'd like, or create your own HTML pages via your preferred text-editor.
Next, edit the web.xml file within \m-power\mrcjava\WEB-INF\ and add these two servlets to the bottom of the file, ensuring they are placed before the final </webapp> tag.
<error-page>
<error-code>500</error-code>
<location>/errors/500.html</location>
</error-page>
<error-page>
<error-code>404</error-code>
<location>/errors/404.html</location>
</error-page>
Once done, please restart Tomcat.
Related Posts: