Here's a question for you: What's the difference between a worthless business dashboard and a dashboard that makes an impact? To help you understand, take a look at the two dashboards below. Which one is better?
Dashboard #1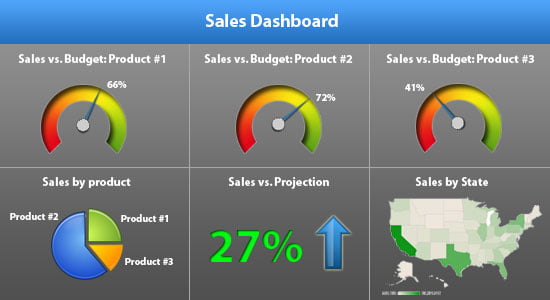 Dashboard #2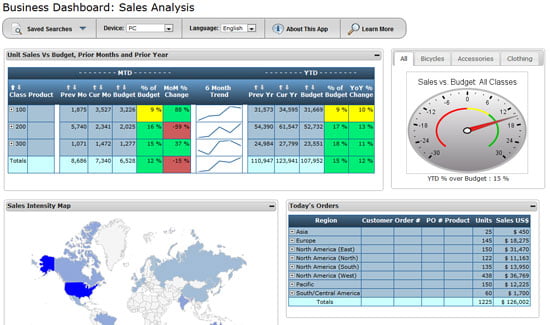 So, which dashboard is better?
That's somewhat of a trick question. There is no way you can answer that question without first understanding a little more about each one. Now, what if I told you that dashboard #2 is accessible from mobile devices and displays real-time data, while dashboard #1 displays week-old information and is only accessible from a Windows-based PC? With this information, the second dashboard is clearly better.
Now, I showed you these two dashboards to illustrate a point: You can't judge the effectiveness of a dashboard by its appearance. That fact gets lost sometimes: It seems like dashboard vendors place more of an emphasis on flashiness and looks than actual substance. That fact is, while a good-looking dashboard is nice, it doesn't mean a dashboard is any good.
So, what does make a good dashboard?
To answer that question, you must first understand the purpose of a dashboard. A dashboard exists to answer one simple question: How is my business (or a particular segment of my business) doing right now?
Simple enough, right? So, what must a dashboard have to properly answer that question? Here are three of the most important aspects that a good dashboard must include:
1.Relevant Data (and beyond)
Obviously, a dashboard must display relevant data. But, a good dashboard goes a step beyond that. It displays relevant data and lets you drill down as necessary to take an even deeper look at any aspect of that data. For instance, a dashboard might show you that sales for one product line are way up today. A good dashboard lets you drill past that information and figure out why they're up.
2. Real-time Data
The whole concept of a dashboard is based on real-time data–it must tell you how your business is doing at that exact moment in time. In fact, a dashboard that doesn't display real-time data isn't even a dashboard. It's a report.
3. Accessibility
A good dashboard must let you see how your business is doing, from anywhere and at any time. A dashboard that is only accessible from inside the office isn't a very useful dashboard if you're on the road. A good dashboard must be instantly accessible via the web, on any device (smartphone/tablet/PC). The dashboard found here gives a good example of this.
Conclusion
A good dashboard is an invaluable business tool, but only if the emphasis is placed on the correct aspects. While a good-looking dashboard is nice, just make sure it's not valued ahead of the three aspects listed above.
Related Posts: