m-Power Updates
Click here to access legacy documentation for this feature
m-Power updates are available on your mrc Customer Portal. The update will be installed on the m-Power server. After installing, the update will also need to be applied to the development interface.
How to update:
Download the m-Power Update.exe from your Customer Portal to the m-Power server.
Run the m-Power Update.exe.
Once completed, click "Finish" which will open the Update Release Notes in your browser. If any additional steps are required, they will be listed here.
Note: If the Update Release Notes are not opened due to server security, view the Update Release Notes here.
Download m-power_update.zip from your Customer Portal.
End your application server.
Install the m-Power updates by unzipping the contents of m-power_update.zip to the directory that contains the m-power folder. For example, if the m-power folder is in a folder named development, you will extract to development. A directory named m-power will already exist from the original install of m-Power.
Be sure to choose to overwrite any existing files.
Start your application server.
Download the m-power_update.zip from the Customer Portal.
FTP this file to the root of your AS400.
End your application server.
Install the m-Power updates by entering QSH.
Once in QSH, change to the root directory and run the following command:
jar -xf m-power_update.zip
This command unzips the contents of the Update Package.
Exit QSH.
Start your application server.
After updating m-Power from the server, you must also "apply" the update in the development interface. The first time you sign into the interface after installing the update, you will see a notification immediately upon signing in.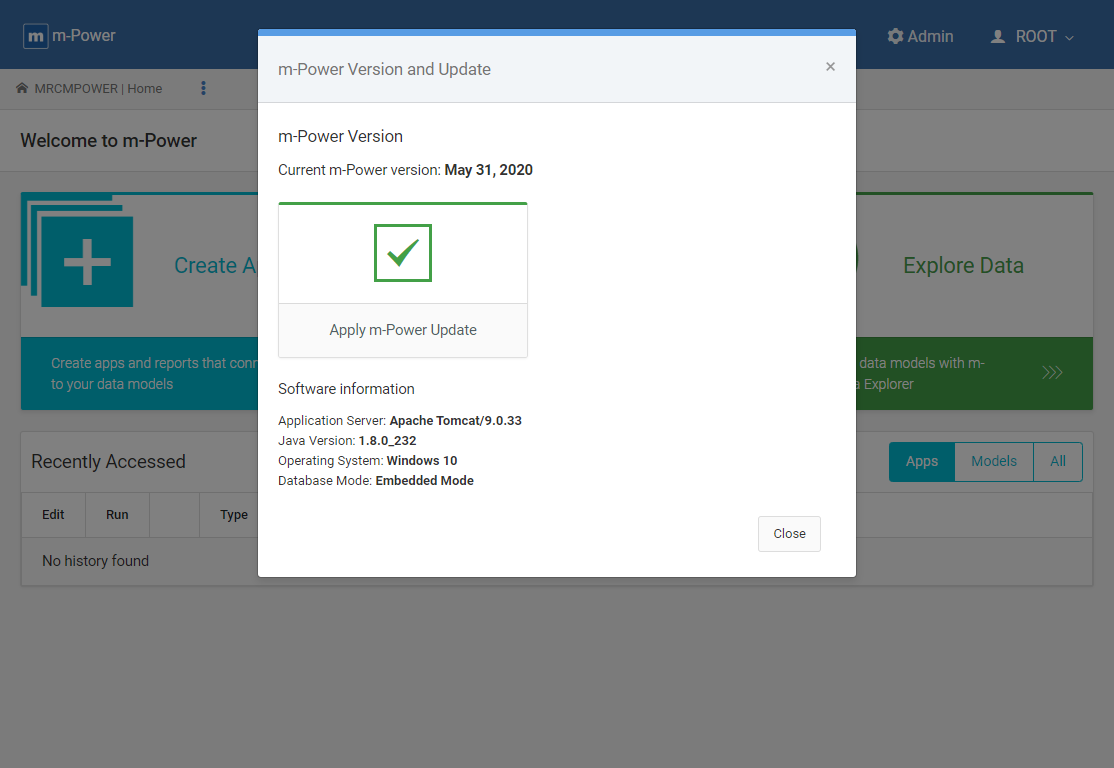 Clicking the 'Apply m-Power Update' button begin the apply update process. Alternatively, you can manually click the "Apply Update" button. Open the Admin slider –> Version & m-Power Update. On this screen, click the Apply Update button.
If successful, you will see the following screen once the process has completed: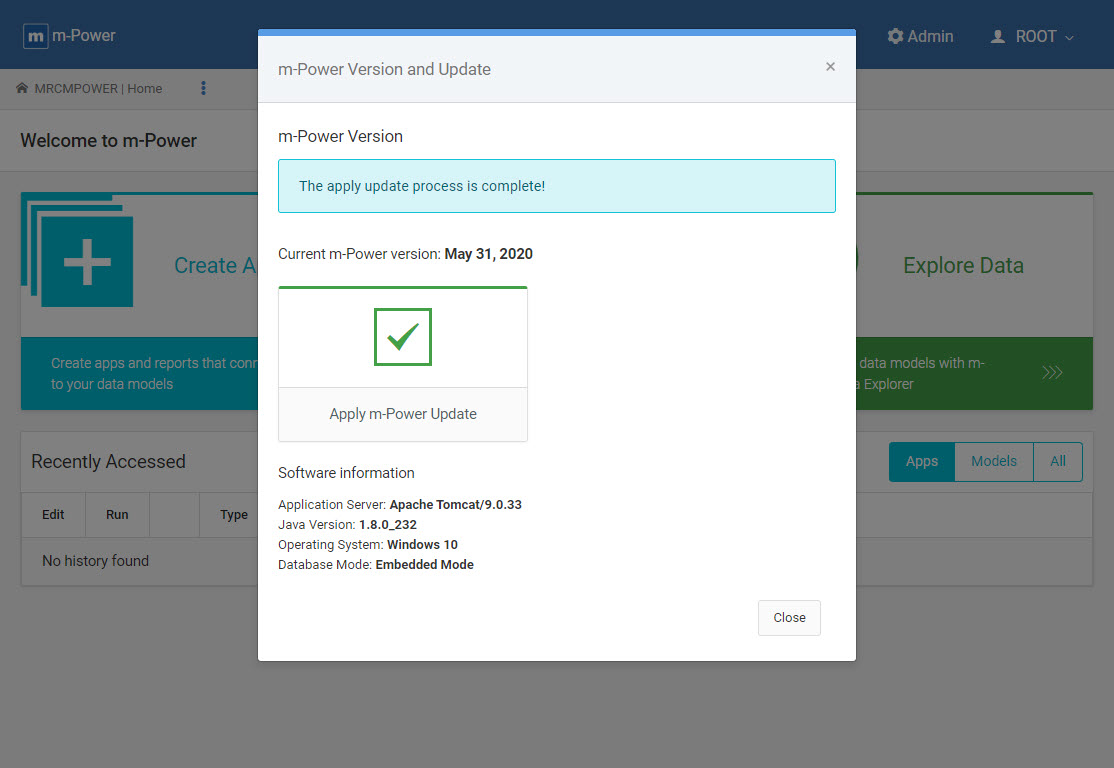 If there were any errors, please contact mrc Support.
Note: This step will only need to be done in development, as your production environment does not have an interface.
Note: To turn off the auto apply update notifications, open the mrctool.properties file located in /m-power/proddata/conf in a text editor. Set the property, check_apply_update, to false. If this property does not exist, it should read: check_apply_update=false.