Trusted by over 1,500 companies worldwide
m-Power's Approach to ERP Customization
The m-Power Development Platform breathes new life into your ERP system using a unique "extend-and-surround" approach. As illustrated below, m-Power lets you build custom web applications over your ERP's database and customize those apps to match your ERP's look and feel. The benefit: You can build custom apps that tie into your ERP data, without altering the system or purchasing expensive ERP modules.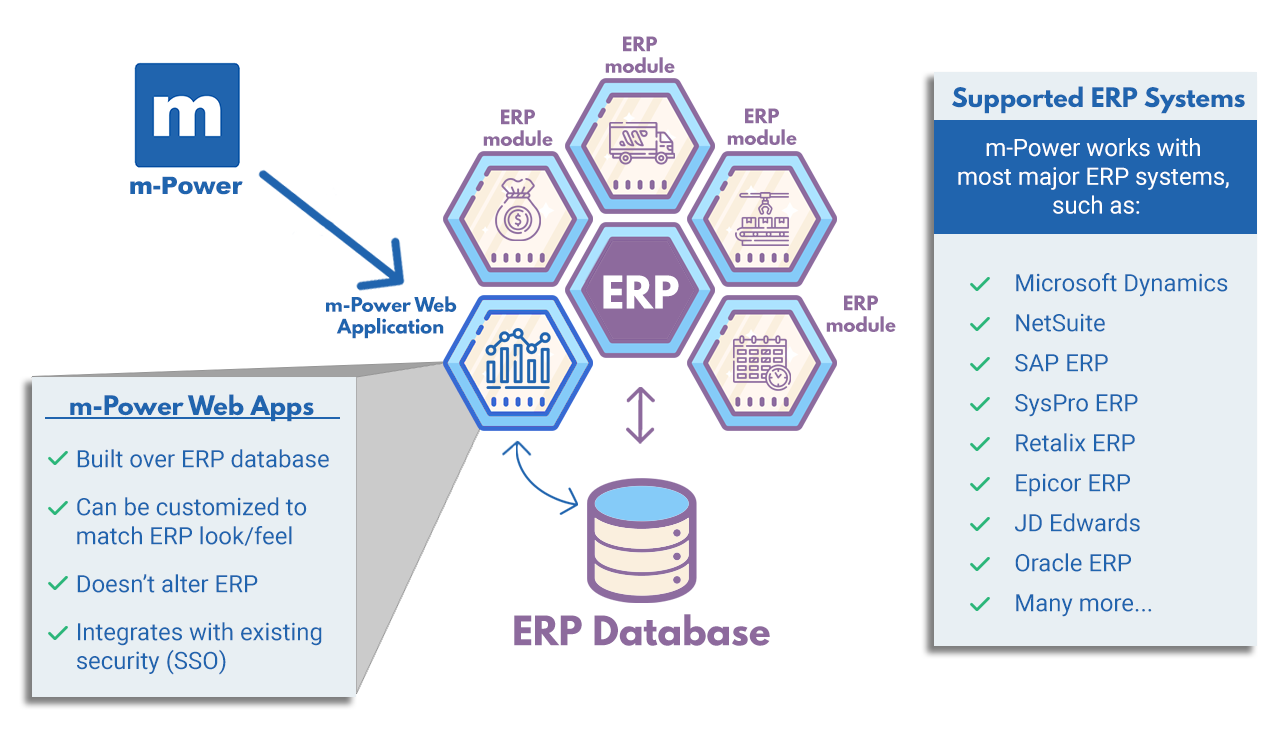 m-Power's approach to ERP customization provides a number of advantages, such as:
Integration
m-Power delivers applications that integrate directly with your system.
Doesn't change the system
m-Power provides new features, without altering the underlying system itself.
Speed
Deliver new applications in minutes, using m-Power's model-driven build process.
Licensing
With no user or distribution fees, m-Power scales easily across your entire business.
Flexibility
Deploy m-Power applications on premise or run in the cloud. Port easily between the two.
Security
Integrate with your existing security and add single sign-on access to your applications .
---
We have utilized m-Power to extend capabilities of our existing Retalix ERP database--avoiding modification costs and giving us more bang for the buck.



m-Power helps us keep up with the latest technology without changing our ERP system.



All our critical reporting is now delivered in real-time to our users' browsers with m-Power. Users can verify the data immediately - drilling behind any figures down to the lowest level of detail anywhere in the ERP system. You can justify every figure and know that everyone is looking at the same set of numbers.



21 ways m-Power will improve your enterprise systems
Locked into an old enterprise system? This guide is for you. It outlines m-Power's unique approach to enterprise system integration, and explains what types of modern features it lets you add to your existing system.
Download
Case Study: Raleigh Bicycles
With competitors rolling out web-based ordering systems, Raleigh Bicycles needed to give their dealers a way to place orders via the web. Read this case study to learn how they used m-Power to build a custom extranet that integrated with their new ERP system.
Results
Created a custom extranet faster than it would've taken to deploy a generic, off-the-shelf solution
Automated their manual ordering process, which increased internal staff efficiency
Provided their customers with a way to make purchases 24/7, which improved sales and revenue
Read Case Study
Video: Enhance your ERP system with web reports, mobile apps, and more
m-Power lets you build new applications over your ERP system, like mobile apps, web reports, BI, and more. m-Power apps integrate directly with your ERP system without altering the underlying code. Watch this short video to learn more.
Watch the video
Learn how m-Power can help you
Sign up for a custom demo