Why choose m-Power to enhance your enterprise systems?
Integration
m-Power delivers applications that integrate directly with your system.
Doesn't change the system
m-Power provides new features, without altering the underlying system itself.
Speed
Deliver new applications in minutes, using m-Power's model-driven build process.
Licensing
With no user or distribution fees, m-Power scales easily across your entire business.
Security
Include security features like single sign-on, multi-tenant security, user privilege parameters and more.
Flexibility
Deploy m-Power applications on premise or run in the cloud. Port easily between the two.
See m-Power build a report over your data in just 60 minutes
Trusted by over 1,500 companies worldwide
Case Study
Raleigh Bicycles builds a custom extranet over their ERP system
Read this case study and learn how Raleigh Bicycles used m-Power to build a custom extranet that integrated with their new ERP system.
Results:
Created a custom extranet faster than it would've taken to deploy a generic, off-the-shelf solution.
Completed the entire project in 3 months.
Delivered a custom extranet to their exact specifications without touching the underlying ERP code.
View Case Study
"It was clear that m-Power offered Raleigh the right tool at the right price backed up by considerable experience."
--Barrie Timson, Business Systems Manager at Raleigh Bicycles
Learn how m-Power can help you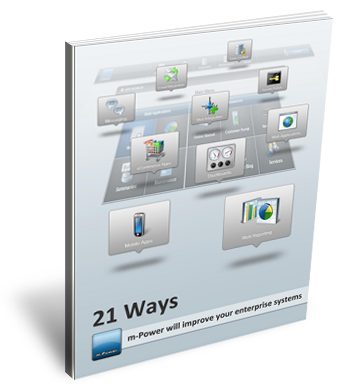 Locked into an old enterprise system? This guide is for you. It outlines m-Power's unique approach to enterprise system integration, and explains what types of modern features it lets you add to your existing system.
Read More
Testimonials
"m-Power has given me and the company the ability to do things that we have never been able to do. Reports that would take months to get from programming requests can now be run in minutes!"

Alex Hodschayan — MBS Textbook Exchange, Inc.

"I am amazed at how easy it is to perform application development. m-Power has automated many of the difficult tasks of application development."

Guy Ulmer — Transparent Container Company

"[m-Power] consistantly delivers when I need to do serious application development in very short order."

Stan Brewer — Boise Paper Holdings, LLC

"[m-Power] has streamlined our operations and given us the ability to make decisions in seconds or minutes instead of hours or days."

Josh Wolfe — Medline Industries, Inc.

"Quick and easy reports, and the ability to delve deeper if necessary in the same tool is unusual to see. [m-Power] seems to deliver both options."

Jay Lee — Showplace Wood Products

"Our return on investment is way beyond what was originally conceived because there are whole new areas to which it can be applied."

Alan Briggs — General Binding Corporation

"It blows me away how easy [m-Power] is to use."

Jose Morales — GL Veneer Company, Inc.
Video
m-Power lets you build new applications over your ERP system, like mobile apps, web reports, BI, and more. m-Power apps integrate directly with your ERP system without altering the underlying code. View video