m-Power Build Process
Learn how m-Power works
Creating applications with m-Power requires no coding, and consists of four simple steps:
m-Power comes with a variety of pre-built templates, which provide the foundation for all applications. m-Power's templates come with all of the architecture and features already pre-built, which eliminates most of the development effort. Here are a few benefits to this approach:
Development Speed: We've done all the coding, added all the features, and tested all of the templates. You're 80% finished when you start.
Instant Mobile Apps: The templates automatically generate tablet and smartphone versions of every app you create.
Customizable You can customize any template however you wish, or even create new templates.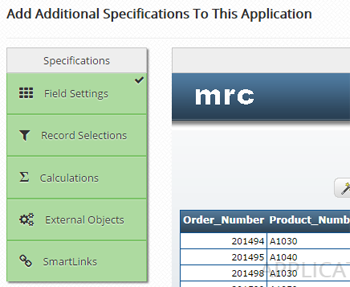 In this step, you select your data and tell m-Power how to sort and format your fields. Specifications include:
Data Selection: Specify which data tables and fields you need.
Sequencing: Tell m-Power how to sort your data.
Field Settings: This lets you customize how m-Power displays fields.
Optional Specs: While not required, you can enhance your application with calculations, external objects, smartlinks, and more.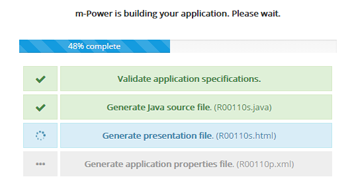 When you click the "build" button, m-Power combines the application specifications with the selected template to generate the application. The compile process automates these steps:
Generate the Java source code, including the SQL database access statements.
Compile the Java source code into a J2EE Java servlet program.
Create the HTML presentation file.
Create the XML properties file for setting application-level options.
Deploy the entire package to the application server.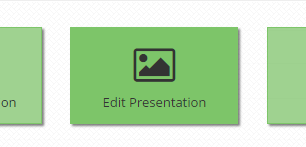 Once you've built your application, open up m-Painter to adjust the look and feel of the application. m-Painter also allows you to insert graphs, charts, calendar popups, and much more...
Learn how m-Power can help you
Sign up for a free trial
Available Templates
m-Power currently offers 15 different templates, each with unique features and capabilities. Hover over each template for a short description.
Inquiry Templates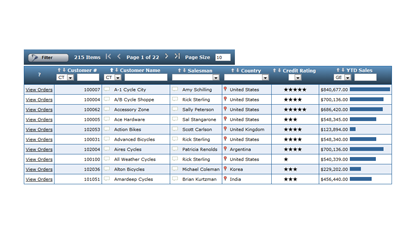 Reporting Templates
Maintenance Templates
Summary Templates
---
Testimonials
"m-Power has given me and the company the ability to do things that we have never been able to do. Reports that would take months to get from programming requests can now be run in minutes!"

Alex Hodschayan — MBS Textbook Exchange, Inc.

"I am amazed at how easy it is to perform application development. m-Power has automated many of the difficult tasks of application development."

Guy Ulmer — Transparent Container Company

"[m-Power] consistantly delivers when I need to do serious application development in very short order."

Stan Brewer — Boise Paper Holdings, LLC

"[m-Power] has streamlined our operations and given us the ability to make decisions in seconds or minutes instead of hours or days."

Josh Wolfe — Medline Industries, Inc.

"Quick and easy reports, and the ability to delve deeper if necessary in the same tool is unusual to see. [m-Power] seems to deliver both options."

Jay Lee — Showplace Wood Products

"Our return on investment is way beyond what was originally conceived because there are whole new areas to which it can be applied."

Alan Briggs — General Binding Corporation

"It blows me away how easy [m-Power] is to use."

Jose Morales — GL Veneer Company, Inc.
Have a question?
Want to learn more about m-Power or see a custom demo?
Contact Us