mrc goes responsive with a new website and m-Power applications
October 2014 Oak Brook, IL
Today, software tool developer mrc announces the launch of new, responsive design capabilities for m-Power users. m-Power is a web application development platform that businesses use across their organizations. It creates web applications such as report-writing, Business Intelligence, executive dashboards, customer portals, and mobile applications to name a few.
What is responsive design?
Responsive design is a web design approach that lets web sites/apps adapt to the device on which they're viewed. As illustrated in figure 1, a responsively-designed website will adjust itself to fit the dimensions of the user's device.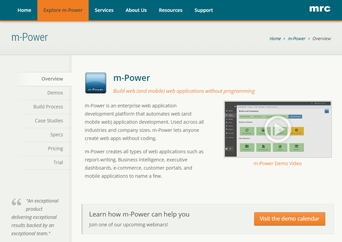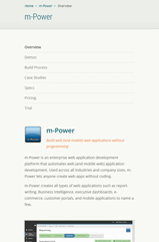 Figure 1: These images illustrate how responsively-designed web pages adapt to different devices. The image on the left represents the traditional PC view, while the image on the right highlights how the page adapts to fit a smartphone.
Why use responsive design?
As smartphone and tablet adoption rates climb, the idea of a "typical user" is vanishing. Businesses can no longer build web apps/sites for PC users, as they did in the past. These days, users access web applications on a variety of devices (PCs/tablets/smartphones) using many different browsers. Responsive design helps businesses adapt to this new reality.
With these new enhancements, mrc brings responsive design to m-Power users. Now, m-Power users can:
Automatically generate responsive web apps

mrc rebuilt m-Power's most popular templates using responsive design. Web applications created with these templates:

Will adapt to any device: m-Power users can now instantly generate responsive web applications that adapt to smartphones, tablets, and PCs—without any extra development effort on their part. It's all built right into m-Power!
Are optimized for touch-based interfaces: Using larger buttons and input fields, these templates are optimized for use both on touch-based and mouse-based interfaces.
Will load quickly on mobile devices: Often relying on a slower web connection, web pages typically load slower on a mobile browser. With this in mind, m-Power's new templates use scalable vector graphic (SVG) icons—a lightweight, scalable alternative to traditional image-based icons. SVG icons require less bandwidth than images—resulting in smaller applications that load easily on slower web connections.

Access a fully responsive website

Redesigned from the ground up, mrc's new website is fully responsive. This helps m-Power users easily access the site from any device and perform necessary tasks, such as submit help tickets via the customer portal, register for new training classes, learn about new enhancements, and more.
In addition to the new responsive capabilities, m-Power still offers an adaptive design option for building mobile web apps. This approach automatically generates multiple presentation layers during the build process—one for PCs, one for tablets, and another for smartphones. Logic placed in the application identifies the user's device and displays the correct layer. The optional, adaptive approach provides more control than the responsive option, and is better suited for more complex applications.
"We're seeing a fundamental shift in the world of web application development," says Tyler Wassell, mrc's Manager of Software Development. "This move to responsive design positions our customers for the new, mobile-focused world of the future."
###
To see a demo app built with m-Power's new, responsive template, visit this link: www.mrc-productivity.com/mrcjava/servlet/MPOWER.I00010s. To see mrc's new, responsive website, or for additional information about mrc or m-Power, visit visit www.mrc-productivity.com. For additional information about mrc, visit www.mrc-productivity.com. Contact mrc via phone at 630.916.0662; via e-mail at mrc@mrc-producitivity.com.
About mrc
mrc's development platform, m-Power, is used to create business applications and can run on any platform that supports Java (e.g. OS/400, Linux, Unix, and Windows). Applications access DB2/400, Oracle, MySQL and MSSQL, or any combination thereof. m-Power is used to create an endless variety of Java-based business applications such as: Mobile apps, Web reports, dashboards, eCommerce apps, business intelligence, and more. It is also the only development platform to automate translation and offer full multi-lingual support.
mrc was a recipient of the Apex Award for application development, is a long-time IBM Business Partner, and has been producing award-winning development software since 1981.
---
Testimonials
"m-Power has given me and the company the ability to do things that we have never been able to do. Reports that would take months to get from programming requests can now be run in minutes!"

Alex Hodschayan — MBS Textbook Exchange, Inc.

"I am amazed at how easy it is to perform application development. m-Power has automated many of the difficult tasks of application development."

Guy Ulmer — Transparent Container Company

"[m-Power] consistantly delivers when I need to do serious application development in very short order."

Stan Brewer — Boise Paper Holdings, LLC

"[m-Power] has streamlined our operations and given us the ability to make decisions in seconds or minutes instead of hours or days."

Josh Wolfe — Medline Industries, Inc.

"Quick and easy reports, and the ability to delve deeper if necessary in the same tool is unusual to see. [m-Power] seems to deliver both options."

Jay Lee — Showplace Wood Products

"Our return on investment is way beyond what was originally conceived because there are whole new areas to which it can be applied."

Alan Briggs — General Binding Corporation

"It blows me away how easy [m-Power] is to use."

Jose Morales — GL Veneer Company, Inc.
Have a question?
Want to learn more about m-Power or see a custom demo?
Contact Us