Trinium Technologies and mrc team up to create next generation mobile app
December 2012 Lombard, IL
Today, software development companies michaels, ross & cole, ltd. (mrc) and Trinium Technologies team up to announce the successful rollout of Trinium-MC2, a next generation mobile application built for trucking companies. Trinium Technologies is a leading provider of enterprise systems for intermodal and multi-modal trucking companies. mrc is a global software development and consulting company specializing in web application development software.
Trinium-MC2 is a mobile web application that lets truck drivers communicate with their Trinium dispatch system directly from any smartphone or tablet. Dispatch instructions can be sent, received, acknowledged, and completed by the driver on their smartphone or tablet. This new mobile application helps Trinium's customers improve data accuracy and timeliness—both essential elements in the trucking industry.
Trinium teamed up with mrc to develop MC2 with mrc's development platform, m-Power. Trinium chose m-Power because it let them deliver a number of benefits to their customers, such as:
Rapid development

MC2 was developed very quickly—requiring only 3 weeks worth of development time. Additionally, the m-Power platform lets Trinium quickly add new features and capabilities to MC2 as needed by their customers.

Reach all platforms

With thousands of customers using all types of smartphones and tablets, MC2 gives all of Trinium's customers the same experience, regardless of device or platform.

Future proof

MC2 is built for the future—completely insulated from the ever-changing mobile platform landscape. When new platforms, operating systems, or smartphones emerge, MC2 instantly supports them. It gives customers their choice of smartphone and platform, both now and in the future.
The response has been nothing short of spectacular. MC2 already has over 1,000 users, with many more expected in the future. Trinium's customers even report that MC2 helps them provide better communication and service, leading to more satisfied end customers.
"mrc has enabled us to quickly meet the growing demands of our customers in offering mobile applications that are compatible with smart phones," said Dennis Lane, Vice President of Trinium Technologies. "Now any truck driver with a smart phone can access our mobile web application, Trinium-MC2, to view and update their dispatch assignments, saving time and money for the driver and trucking company."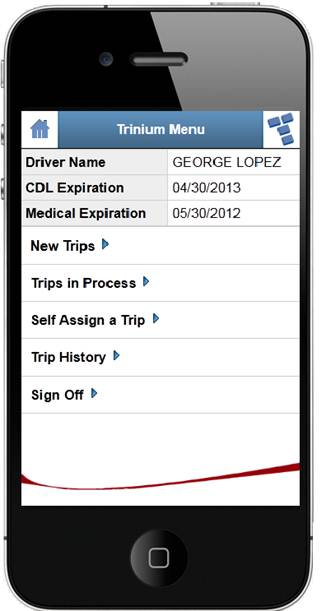 Screenshot of the Trinium-MC2 mobile app
###
For additional information about mrc, visit www.mrc-productivity.com. For additional information about Trinium Technologies, visit http://www.triniumtech.com/.
About mrc
mrc's development platform, m-Power, is used to create business applications and can run on any platform that supports Java (e.g. OS/400, Linux, Unix, and Windows). Applications access DB2/400, Oracle, MySQL and MSSQL, or any combination thereof. m-Power is used to create an endless variety of Java-based business applications such as: Mobile apps, Web reports, dashboards, eCommerce apps, business intelligence, and more. It is also the only development platform to automate translation and offer full multi-lingual support.
mrc was a recipient of the Apex Award for application development, is a long-time IBM Business Partner, and has been producing award-winning development software since 1981.
---
Testimonials
"m-Power has given me and the company the ability to do things that we have never been able to do. Reports that would take months to get from programming requests can now be run in minutes!"

Alex Hodschayan — MBS Textbook Exchange, Inc.

"I am amazed at how easy it is to perform application development. m-Power has automated many of the difficult tasks of application development."

Guy Ulmer — Transparent Container Company

"[m-Power] consistantly delivers when I need to do serious application development in very short order."

Stan Brewer — Boise Paper Holdings, LLC

"[m-Power] has streamlined our operations and given us the ability to make decisions in seconds or minutes instead of hours or days."

Josh Wolfe — Medline Industries, Inc.

"Quick and easy reports, and the ability to delve deeper if necessary in the same tool is unusual to see. [m-Power] seems to deliver both options."

Jay Lee — Showplace Wood Products

"Our return on investment is way beyond what was originally conceived because there are whole new areas to which it can be applied."

Alan Briggs — General Binding Corporation

"It blows me away how easy [m-Power] is to use."

Jose Morales — GL Veneer Company, Inc.
Have a question?
Want to learn more about m-Power or see a custom demo?
Contact Us