mrc Wins Midrange Systems Buyers Choice Award
October 1998 Lombard, IL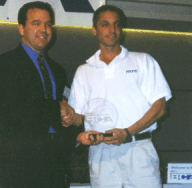 michaels, ross & cole (mrc) is pleased to announce that its rapid application development platform and report writer, mrc-Productivity Series 97, has won Midrange System Magazine's 1998 Buyers Choice Award. The Buyers Choice Awards, announced during the Fall COMMON Conference and Exposition in Anaheim, California, is an annual competition open to all third-party vendors of IBM midrange computing products and services.
According to Midrange Systems Magazine, this year's award competition was the first to take into account real-world customer references. "Nominees were asked to provide a list of their customers who were currently using the product. All references were surveyed by mail and the winners were selected based on the customers' satisfaction with the products' performance, installation and support." Publisher, Cliff Mulcahy, stresses the validity that this new procedure gives to the award. "I'm pleased with the outcome of this year's Buyers Choice Awards. The winners were all chosen based on their products' real-world merits and their ability as a company to service their customers."
Included in the mrc team celebration at the Buyers Choice Award ceremony were (from left) Sal Stangarone, Diane Coli, John Lipsey and Rich Williams.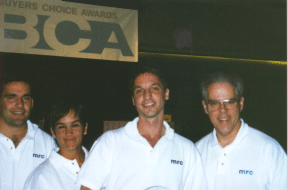 mrc-Productivity Series 97 was the only product in its class to win this year's BCA award. mrc's communications director, John Lipsey, credits mrc's 17-year commitment to excellence as the reason for this recognition. "Since 1981, mrc-Productivity Series has been the only development platform to provide a "one-stop-shop" for all in-house development needs, from basic queries and reporting to complex drilldowns, executive information systems and Business Intelligence systems. And as IT environments have grown more complex, we've empowered our customers to integrate new technologies like client/server and Java with minimal cost, staffing and complexity. The BCA award demonstrates that our customers recognize these efforts. We're very proud of it."
---
Testimonials
"m-Power has given me and the company the ability to do things that we have never been able to do. Reports that would take months to get from programming requests can now be run in minutes!"

Alex Hodschayan — MBS Textbook Exchange, Inc.

"I am amazed at how easy it is to perform application development. m-Power has automated many of the difficult tasks of application development."

Guy Ulmer — Transparent Container Company

"[m-Power] consistantly delivers when I need to do serious application development in very short order."

Stan Brewer — Boise Paper Holdings, LLC

"[m-Power] has streamlined our operations and given us the ability to make decisions in seconds or minutes instead of hours or days."

Josh Wolfe — Medline Industries, Inc.

"Quick and easy reports, and the ability to delve deeper if necessary in the same tool is unusual to see. [m-Power] seems to deliver both options."

Jay Lee — Showplace Wood Products

"Our return on investment is way beyond what was originally conceived because there are whole new areas to which it can be applied."

Alan Briggs — General Binding Corporation

"It blows me away how easy [m-Power] is to use."

Jose Morales — GL Veneer Company, Inc.
Have a question?
Want to learn more about m-Power or see a custom demo?
Contact Us