Drew Marine delivers custom web (and mobile web) applications over their SAP system
---
Overview
Drew Marine Signal & Safety turned to m-Power to deliver real-time data from their SAP system.
Results:
Sales managers can now access account data from anywhere, on any device.
The finance department replaced their spreadsheet-based budgeting process with a flexible web solution.
Directors can instantly answer any question they have about the business.
Case Study Summary

Drew Marine Signal & Safety supplies 75% of the global commercial marine pyrotechnic market with its Comet and Pains Wessex brands. In business for over 100 years, they now supply a range of marine distress signals to distributors in over 70 countries.
The Challenge
After implementing SAP, Drew Marine Signal & Safety faced a challenge: They couldn't easily get the information they needed out of the system.
"Our sales managers needed fast access to sales and margin data by customer with profiles of the their purchasing patterns," explains Claire Newland, Director of Global Business Development. "The UK head office needed to maintain budgets and track performance. Our group office in the US needed access to our system."
The Solution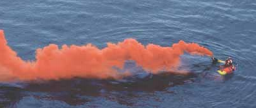 Drew Marine turned to the m-Power Development Platform to solve these problems. Using m-Power, they built web and mobile web applications that deliver real-time data from their SAP system.
The m-Power applications helped Drew Marine in many ways:
"Sales managers now check the latest data about key accounts in a taxi from the airport to a client's offices," says Newland. "They can also show data in real-time on tablets while sitting with the client discussing their account. This keeps everyone on the same page and helps us really understand our customers."
Their finance department replaced a manual group of spreadsheets for maintaining forecasts and budgets with a flexible web solution. They can even see forward ordering profiles--which help them identify and manage any problems before they even happen.
Their directors can now understand and answer any question about the business. Meetings are now about running the business, not simply reviewing the past.
"mrc has a really helpful, can-do attitude," says Newland. "They helped us to drive the project through to a successful completion."
To learn more about Drew Marine Signal & Safety, you can visit their Web site at: http://www.signalandsafety.com/
Want to know more about a similar solution for your business? If you would like more information about how you can create a similar system, or you would be interested in having us develop a custom proof-of-concept you can show the powers-that-be, please just fill out this form, or, call us today at 630-916-0662 to learn more.

Click here to download the PDF version.
---
---
"We can get all the information we need on any device without even logging into SAP."
---