m-Power DX brings self-service data exploration to end users
January 2017 Oak Brook, IL
Today, software developer mrc announces the release of the m-Power Data Explorer (DX)—a self-service, data exploration add-on to the m-Power Development Platform. m-Power is a web application development platform that businesses use across their organizations to create web applications such as report-writing, Business Intelligence, executive dashboards, e-commerce, customer portals, and mobile applications to name a few.
What is m-Power DX?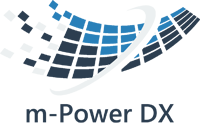 Designed for end users, m-Power DX simplifies data exploration. With a point-and-click interface, business users can create reports, data lookups, visualizations, pivot tables, and dashboards in minutes. Once created, users can share their results with others or save them for future use.
This new m-Power add-on provides a number will help businesses in a few important ways. With m-Power DX, they can:
Deliver self-service data analysis across their business
m-Power DX eliminates the need for technical experience or knowledge of the company's database structure. Combined with its friendly licensing structure (no per-user fees), m-Power DX is built for organization-wide adoption.
Remove the reporting burden from their IT department
m-Power DX requires minimal involvement from the IT department. Once IT creates the initial data sets, end users can explore data on their own. m-Power DX creates true self-service data analysis—freeing up the IT department for mission critical tasks.
Get up and running in minutes
m-Power DX delivers self-service data exploration and a minimal learning curve. With its intuitive interface, users can start exploring their data immediately.
"Many companies aim for self-service analytics, but have trouble delivering true 'self-service'," says Tyler Wassell, mrc's Director of Development. "Their end-user tools often require IT involvement, technical skills, or knowledge of the database structure. m-Power DX eliminates these requirements, and provides true self-service data exploration. With m-Power DX, companies can remove the reporting bottleneck and deliver self-service analytics to everyone in their organization."
###
For additional information about m-Power DX, visit this page: m-Power DX. Contact mrc via phone at 630.916.0662; via fax at 630.916.0663; via e-mail at mrc@mrc-productivity.com.
About mrc
mrc's development tool suite, m-Power, is used to create business applications and can run on any database or platform that supports Java (e.g. OS/400, Linux, Unix, and Windows). m-Power is used to create an endless variety of business web applications such as: Mobile apps, Web reports, dashboards, eCommerce apps, business intelligence, and more.
mrc was a recipient of the Apex Award for application development, is a long-time IBM Business Partner, and has been producing award-winning development software since 1981.
---
Testimonials
"m-Power has given me and the company the ability to do things that we have never been able to do. Reports that would take months to get from programming requests can now be run in minutes!"

Alex Hodschayan — MBS Textbook Exchange, Inc.

"I am amazed at how easy it is to perform application development. m-Power has automated many of the difficult tasks of application development."

Guy Ulmer — Transparent Container Company

"[m-Power] consistantly delivers when I need to do serious application development in very short order."

Stan Brewer — Boise Paper Holdings, LLC

"[m-Power] has streamlined our operations and given us the ability to make decisions in seconds or minutes instead of hours or days."

Josh Wolfe — Medline Industries, Inc.

"Quick and easy reports, and the ability to delve deeper if necessary in the same tool is unusual to see. [m-Power] seems to deliver both options."

Jay Lee — Showplace Wood Products

"Our return on investment is way beyond what was originally conceived because there are whole new areas to which it can be applied."

Alan Briggs — General Binding Corporation

"It blows me away how easy [m-Power] is to use."

Jose Morales — GL Veneer Company, Inc.
Have a question?
Want to learn more about m-Power or see a custom demo?
Contact Us