mrc Wins 2000 AS/400 Technology SHOWCASE Product Excellence Award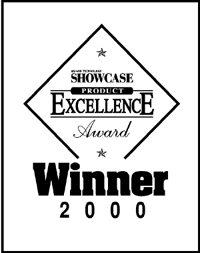 michaels, ross & cole's mrc-Productivity Series has been voted Best Product in the AS/400-based Application Development category in the 2000 AS/400 Technology SHOWCASE Product Excellence Awards recognition program. The award was received at a reception hosted by Midrange Computing in San Diego on March 12, 2000. Winners were selected via an online voting process that was open to more than 50,000 registered subscribers of AS/400 Technology SHOWCASE magazine. Winners were selected based upon the highest vote totals received in each of the 45 hardware and software categories.
More than 250 vendor representatives attended the Product Excellence Awards reception hosted by Midrange Computing in the Bayside Pavilion, at the San Diego Marriott Hotel and Marina.
"Being voted as the best product in the AS/400-based Application Development category is truly significant as it reflects the opinions and judgments of a very critical audience-AS/400 end users," said David Uptmor, publisher of AS/400 Technology SHOWCASE and Midrange Computing. "By winning a Product Excellence Award, mrc has let the AS/400 marketplace know that it is a company that cares about its customers, and cares about delivering value to the business community."
Accepting the award on behalf of mrc, mrc communications director Tracy Doell said, "We are thrilled to have such overwhelming support from our customers. Since 1981, mrc has been committed to providing quality software that increases productivity and serves our customers' needs. And as technology has evolved, mrc-Productivity Series has too, allowing our customers to integrate Java and client/server technologies quickly and easily. To have our customers recognize us in this way is tremendous. We are extremely honored."
AS/400 Technology SHOWCASE magazine is the leading product magazine in the AS/400 arena. A special editorial section featuring the winners of the Product Excellence Awards will appear in the June 2000 issue of AS/400 Technology SHOWCASE magazine.
mrc was founded in 1981 and provides report writing and rapid application development software and services for the IBM AS/400, client/server and Java markets. The mrc US-based and international affiliate network serves more than 2500 customers worldwide.
---
Testimonials
"m-Power has given me and the company the ability to do things that we have never been able to do. Reports that would take months to get from programming requests can now be run in minutes!"

Alex Hodschayan — MBS Textbook Exchange, Inc.

"I am amazed at how easy it is to perform application development. m-Power has automated many of the difficult tasks of application development."

Guy Ulmer — Transparent Container Company

"[m-Power] consistantly delivers when I need to do serious application development in very short order."

Stan Brewer — Boise Paper Holdings, LLC

"[m-Power] has streamlined our operations and given us the ability to make decisions in seconds or minutes instead of hours or days."

Josh Wolfe — Medline Industries, Inc.

"Quick and easy reports, and the ability to delve deeper if necessary in the same tool is unusual to see. [m-Power] seems to deliver both options."

Jay Lee — Showplace Wood Products

"Our return on investment is way beyond what was originally conceived because there are whole new areas to which it can be applied."

Alan Briggs — General Binding Corporation

"It blows me away how easy [m-Power] is to use."

Jose Morales — GL Veneer Company, Inc.
Have a question?
Want to learn more about m-Power or see a custom demo?
Contact Us