Why don't you have business dashboards yet? In my experience, if a company doesn't have business dashboards, it's usually for one of two reasons: Either they don't see the value, or they think it's too difficult.
What's the value of a business dashboard? A good dashboard gives you a clear view of your business, improves your decision making, and helps you find problems before they get out of hand.
What's the catch? Value only comes when you use the dashboard regularly and act on the data. That last part trips up a lot of companies. They get a nice dashboard, look at it every day, but don't do anything with the provided data. The way I see it: The dashboard can only present data in an easy-to-understand manner. It's what you do with the data that determines value.
On the other hand, if you think dashboards are too difficult, I don't blame you. Many dashboard options are incredibly difficult. They're hard to install, hard to customize, hard to use, etc… If you fall into this category, I'd like to share some good news. We've recently made significant upgrades to m-Power's dashboard capabilities that make dashboard creation and customization extremely simple. Let me quickly explain each upgrade and why they help:
New m-Painter import panel: The new import panel provides a wizard-like approach for importing applications and creating dashboards. The new panel also lets users edit their graphs and tables before importing them into a dashboard.
New m-Painter widget panel: The new widget panel lets users customize their dashboards with a few different page layouts. Additionally, the end user can re-structure their dashboard layout for optimal readability using simple drag-and-drop.
New graphing interface: We recently completely overhauled m-Power's graphing interface. It uses a more graphical and intuitive interface for creating and adding graphs to dashboards. It lets you control all aspects of graph creation, but most importantly, makes graph creation easy and fast. Here's a screenshot of the new interface: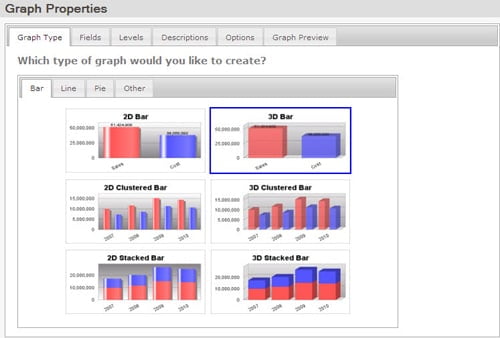 So, I ask you: If you don't have dashboards yet, what's stopping you? If you always believed they were too difficult, you should check out m-Power. The free Test Drive will let you build two web applications without any programming. Now, it doesn't take you through a dashboard application, but if you like what you see in the Test Drive and want to learn more, let us know. We'll build you a custom dashboard over your own data as a demonstration.