Summary: Why do most BI projects fail? Many organizations still ignore the foundational questions and rush through the initial steps. They jump straight into implementation, and then wonder what went wrong. If you want your BI project to succeed, here are 4 initial steps you can't ignore.

In the first part of our BI Roadmap Series, we explored 5 "foundational questions" of successful BI. These are questions you must ask before starting your BI journey.
While the questions may seem basic, they lie at the foundation of any successful BI project.
The problem is, many organizations ignore these questions. They move straight into product implementation without asking the proper questions. They rush through the critical first steps.
Then they wonder why their BI project failed.
What are these initial questions and steps? While we covered the questions in the first article, today let's explore the next phase of successful BI projects: The first steps. Here are 4 initial steps you must take before implementing a BI solution:
1. Get full executive buy-in
One of the most common reasons why BI projects fail: They lack executive buy-in. Executives aren't 100% committed to the project before it starts.
Without this buy-in, executives will pull the plug on the project at the first sign of problems.
The problem is, problems happen. BI projects often take longer than expected. They often run into hurdles. They might go over budget. Unless you sell your key decision-makers on the benefits of BI before you start, these problems will derail the whole thing.
How can you get executive buy-in?
You must explain the business benefits. How will this project solve pressing business problems? How will this project impact our bottom line? How will this project improve the business and open up possibilities?
Don't get hung up on minor details. Stick with results. How will this help the company and solve problems facing the executives? If you can explain that, they will be on board.
One word of caution: Don't set expectations too high. Be realistic, and explain the benefits this project will deliver.
2. Understand your current state
Once you've gained executive buy-in, you can move on to the next step: Assessment.
Talk to those who will use this solution. Understand a few key questions:
What are they doing now for BI? Many users already analyze their data in one form or another. What is their current process?
What tools do they use? If they are practicing BI already, understand which tools they use. For many, it's Excel. Maybe some have purchased a cloud option. Understand how and why they use these tools. This knowledge will help choose your BI solution.
Where do they get their data? Take a data audit. What data do they analyze, and what format is it in?
What are they trying to accomplish? Understand your user's goals. Maybe they use Excel currently because it's easy and lets them meet their needs. Understand why they do what they do.
3. Map out your requirements
Once you understand the state of BI within your organization, you can map out requirements for your new BI solutions. This involves identifying different user groups and speaking with each one.
For example, your marketing department will use BI differently than your IT department. Your accounting department may have different requirements than your HR department.
For each user group, you'll need to answer a few questions:
What metrics do they need to measure? Each department cares about different aspects of your data. Understand which data matters to each set of users.
What's the technical level of your users? In most every department, you'll find a wide range of technical skill. Your solution must appeal to every level.
What do they need in a solution? For instance, executives may want

dashboards

, while the sales department may need

interactive reports

. Some may want to pull the data out of the system and place it in Excel.
What are their goals? What do they hope to get from this solution? What types of things do they want to do that they can't do today?
Where does the necessary data live? Do different departments use different systems? Is any data stored in spreadsheets?
How will you deliver the content? Will they access reports through a PC only, or will mobile devices come into play? Should they deliver reports through a portal, or on an as-needed basis?
How quickly do you need data? Do they need real-time data or historical data?
4. Identify your KPIs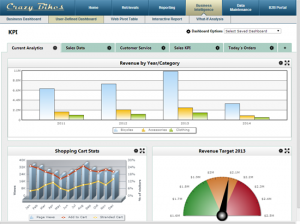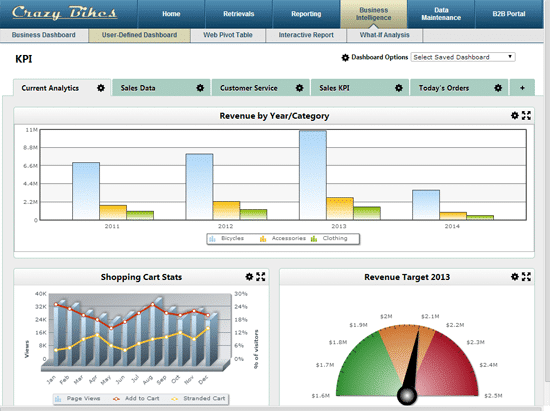 Another common reason why BI projects fail: Analysis paralysis.
This problem creeps in when organizations try to analyze too much data. They dump all their data into a data warehouse and think they're all set.
In reality, all data is not created equal. If you try to analyze everything, you'll only overwhelm your users.
Instead, separate your regular metrics from your Key Performance Indicators (KPIs).
What's the difference? A metric shares information. A KPI drives action. A KPI pushes the business needle. It tells you how your company is performing.
How do you identify your KPIs? Ask yourself a couple of questions:
Which metrics impact the organization's bottom line?
What decisions do you want to make with your data?
Once you've answered those questions, identifying your KPIs should be easy. Work backwards from those answers and determine which metrics matter. If the metric doesn't matter, don't measure it.
Summary
While we'll cover other aspects of the BI process in future articles, these are your initial steps. These are the steps you must take before implementing any BI solution. Ignore them at your own peril.
So, what do you think? Is there anything you would add to this list? If so, please share your thoughts in the comments.
If you enjoyed this article, sign up for email updates
Email Address
We value your privacy. We will not spam you or share your email address with anyone. You're free to unsubscribe at any time.
Related Posts: