Summary: Is your company still using those outdated character based programs? If so, here's a short video you'll want to watch. It explains the limitations of character based programs, a couple of different approaches to modernizing those programs, and even walks you through the process of turning a character based program into a modern web app. All that in under 3 minutes!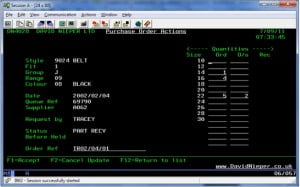 Is your company still using character-based, green-screen programs like this?
If so, what's keeping you from moving to the web? Are you holding off because your company relies on these old programs? Are you worried that the project is too difficult and/or expensive?
If so, here's a short video you'll want to watch. It walks you through the process of turning a green-screen program into a modern web app…in under 3 minutes! Breaking free from your green screens may actually be easier than you think…