Have you ever been in a "blame" meeting? It's one of those meetings called when numbers are down or after a project or purchase failed miserably. As you might guess, there's a lot of finger pointing and blame spreading. Not only are these meetings painful, they are completely unproductive. Since everyone is too busy deflecting blame, no one learns from their mistakes.
I'd like to help you avoid these meetings. Obviously, I can't write a definitive guide on how to avoid failure, as every business and situation is different. However, I can help you avoid failure in one area that applies to most companies: Software purchases. In my experience, software purchases usually fail for one of four reasons. I'd like to explain those reasons and then tell you how to avoid them.
Take a look at the image below. This stool illustrates the 4 most common causes of failure. Just like the stool would fail if just one piece was missing, software purchases fail if every element is not in place. Make sense so far? Now, let me explain the pieces and why each is necessary.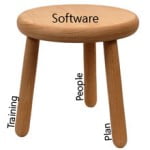 Software: I made "software" the seat of the stool because it's the most important element. Obviously, if it doesn't work correctly or doesn't accomplish everything it's supposed to accomplish, the project fails. In short, if you don't start with good software, nothing else matters.
How to avoid failure: Make sure you know the software's limitations and capabilities before purchasing. Create a list of must-have requirements and ask the vendor to develop a proof of concept demonstrating these requirements.
Training: Okay, you bought software that meets every requirement and more, so you can't possibly fail, right? Of course not…that's like saying I'd be the world's greatest pilot if I had the best airplane. Without proper training, your software is useless.
How to avoid failure: Understand the training options before you purchase. Is the training online or in-person? Are the training classes large or small?  In my experience, in-person training with a small class size gives you the greatest chance of success.
People: Like it or not, the very people using the software can also lead to its failure. This usually happens for one of two reasons.
-The users don't understand it. Some users aren't very technical, and won't be able to use more advanced software regardless of training.
-The users don't like it. Some users are capable of using the software, but flat out don't like it. As a result, they refuse to use it, or don't use it correctly.
How to avoid failure: Include users in the purchase process. If the software is aimed at less technical users, make sure they understand how to use it before purchasing. Also, regardless of technical proficiency, make sure the users are on board with the purchase.
Plan: Many companies go into a software purchase with an idea of what they want instead of a concrete plan. Of course, this is a mistake.  If you don't understand what you want/need, how will you know if you've succeeded?
How to avoid failure: Create a concrete plan before you begin your software search. You must understand what problems you want to fix, what you need, what you want, who will use it, etc… Vague ideas usually lead to failure.
To conclude, in order to avoid software purchase failure, you must have the right software, good training, the right people, and a concrete plan.  If even one of these components is missing from your software purchase, it will most likely fail. If you want to read more about avoiding IT failure in general, here are a couple of nice blog posts that will help you notice early warning signs: