Summary: The demand for enterprise mobile apps is growing. New trends are emerging that offer significant opportunities to businesses who jump on board. What are these trends and what areas should you watch in 2018? In this article, we explore 7 enterprise mobile app trends you can't ignore this year.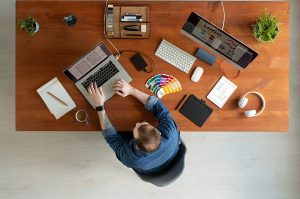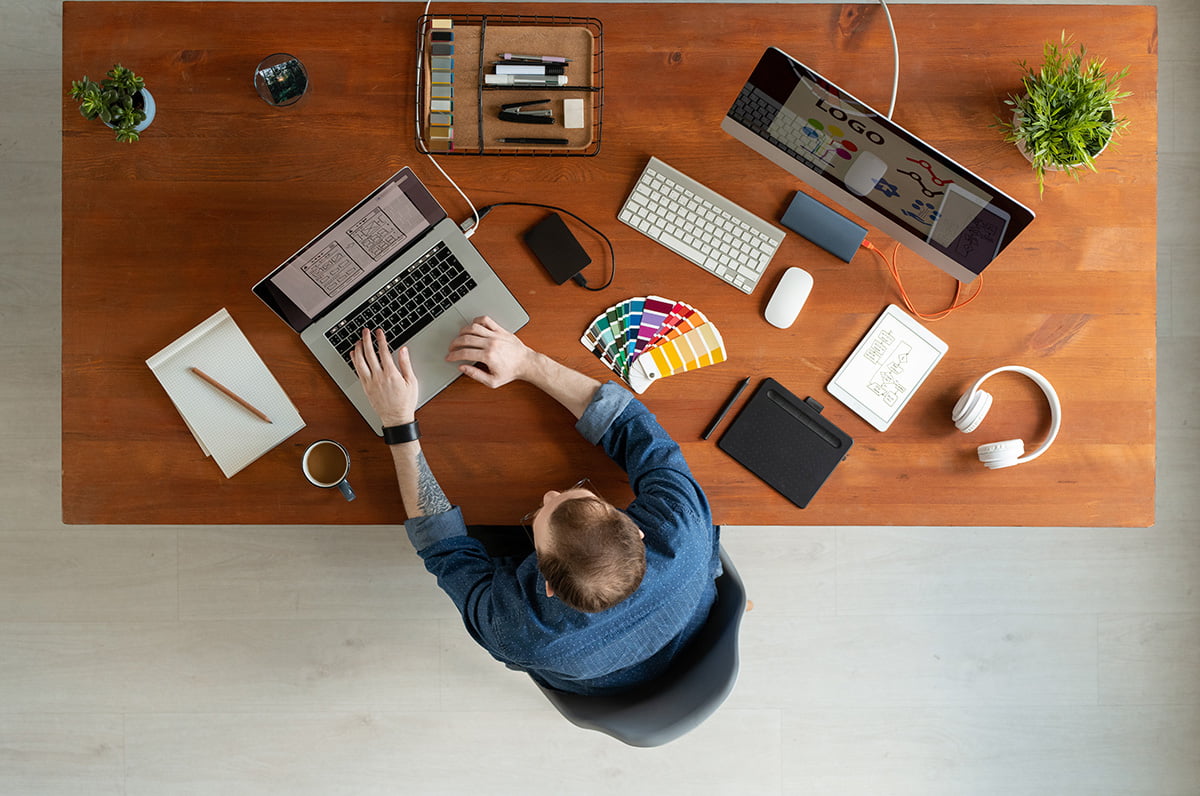 There's a growing gap between mobile usage and enterprise mobile app development over the last few years. While mobile usage is skyrocketing, enterprise mobile app development is lagging behind.
Why? It's not for lack of demand. Business users want mobile apps. In fact, a recent Gartner survey highlights the issue: Enterprises are responding slowly to the increasing demand for mobile apps.
Gartner's advice to these businesses: "Development teams need to rethink their priorities and span of control over mobile app development or risk further erosion of IT budgets and the perceived value of IT development."
In short, the demand for mobile apps is growing within the enterprise. Development teams need to meet this demand, or risk being bypassed altogether. This demand for mobile apps combined with growing mobile usage means only one thing for businesses: Over the next few years, we'll see mobile development grow significantly in the business world.
While mobile is poised to grow over the next few years, what can we expect in 2018? Today, let's explore this area. Here are 7 trends you should watch in the coming year:
1. 5G will (eventually) change everything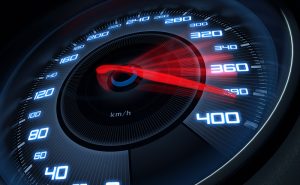 What's the next big thing in the world of mobile? 5G. With limited deployment planned for this year, we can expect 5G wireless networks to become standard within a few years.
What is 5G and what does this mean for business?
I won't get into all of the details here, as there are whole articles written on 5G's business impact. In short, 5G makes wireless networks much, much faster. As explained below, this will be a major improvement over 4G.
"The deployment of 5G will make data-based services on phones much more robust," says John B. Dinsmore, Ph.D., Assistant Professor, Marketing, Raj Soin College of Business, Wright State University. "5G has download speeds at 30-50X that of 4G."
From a business perspective, the implications are endless. You'll be less confined to a physical location. Mobile apps will become more powerful. Trends like IoT, AR, and VR will explode. Thanks to the near-instant download speeds, cloud-based services will grow even more.
That's just the tip of the iceberg. The point is, 5G holds amazing possibilities for the business world. While it won't bring sweeping changes this year, it's time to figure out how your business can capitalize on it.
2. Instant apps help ease "app fatigue"
When mobile apps first burst onto the scene, they were all the rage. People enjoyed finding and downloading new apps. These days, we're suffering from app fatigue. We have too many apps on our phones–most of which go unused.
How bad is it? From 2011-2014, smartphone users downloaded an average of 8.8 apps per month. In 2017, the majority of users downloaded 0 apps per month.
Google noticed this trend, and came up with a concept called "Instant Apps." Introduced at Google I/O 2016 and first rolled out in 2016, Android Instant Apps are finally starting to get some buzz. What is an instant app? It's something in between a native app and a mobile web app. Essentially, it's an "app" you can find in the Android Marketplace, but it doesn't require installation. It runs instantly.
Now, I won't get into all of the ins and outs of the topic, but here's a good article on Instant Apps if you would like to know more. That being said, if your business is building (or has built) a native app, you'll need to update it with instant app capabilities.
"The barrier to adoption for a lot of apps is the download requirement," says Leonardo Farias, CTO of Concepta. "People only have so much memory on their smartphones, and they hesitate to download apps that could just sit unused on their phones.That's not an unrealistic fear: only 20% of apps are opened again after the first use. Surveys show that 75% of consumers feel more comfortable using apps with helpful reviews or screenshots, but Instant Apps take that a step farther. Users can access them directly from the Google Play store without downloading. Companies don't need to build separate instant apps to take advantage of the trend, either. Since they're effectively features of an existing app (for example, the map section of a store app) which are used independently via a website, they use the same APIs and source code. Developers only need to update their existing apps for Instant App functionality."
3. Cloud-based mobile apps gain popularity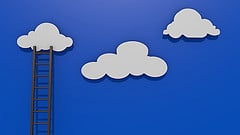 People tend to associate the term "mobile app" with "native app," but that's not entirely accurate. It's important to note that there are three types of mobile apps:
Native app: An app that's installed on the device itself and distributed via the platform's app store/market.
Mobile web app: Commonly referred to as an "HTML5 app" or a "cloud app", these are cross-platform apps that are accessed through the device's web browser.
Hybrid app: Built with web technologies and wrapped in a native shell, these apps are a combination of the two previous apps. They look and feel like a native app, but are actually web apps inside of a native wrapper.
For a more detailed description of each, check out this handy comparison chart.
While native apps get most of the press, enterprise mobile development is shifting towards mobile web apps. According to Gartner, "It's encouraging to see significant growth in the number of mobile apps that are planned, but most of this growth is in mobile web apps as opposed to native or hybrid mobile apps."
Why? Time and resources. Mobile web apps are cheaper and easier to create than their native counterparts. As the web continues to improve, they also offer speed comparable to native apps.
"Cloud-based apps are still growing in popularity," says Farias. "They're faster and more economical to develop than their counterparts. Because they operate in the cloud, they don't take up as much valuable smartphone memory. What really draws companies to cloud apps is the high-quality customer experience they afford. Cloud architecture was designed for speed and performance. The performance can even match desktop application performance as long as the user is in a good signal area, while local caching allows apps to remain usable offline. Users can easily regain data after losing or breaking their device, too. With benefits like this, it's easy to see why 90% of mobile traffic will be cloud-based by 2019."
4. AR/VR expands in the business world
While Augmented Reality (AR) and Virtual Reality (VR) are widely used in gaming and entertainment apps, they hold value for the enterprise as well. Here's a great article that highlights virtual reality's possibilities for business. That's just the tip of the iceberg.
In 2018, we can expect these technologies to make headway in the business world. As explained below, recent advancements make AR mobile apps much easier to create.
"In 2018, Augmented Reality (AR) will become more mainstream in mobile applications," says Nic Grange, CTO at Retriever Communications. This will enable more immersive experiences where the virtual blends into the physical."

"Last year, Apple released ARKit which was a massive leap forward. Early adopters have been exploring what is possible and what works. While iPhones and its operating system iOS are very popular in certain regions, it still only makes up less than 15% of the world-wide market with Google's Android makes up more than 85%. Google released preview versions last year and last month finally released version 1.0 of its AR platform called ARCore. While no doubt it is still behind Apple who have already released version 1.5 of ARKit, Google is fast making up ground which is enabling even more developers to build AR into their applications. The fact that these can only be run on quite new devices will be a limiting factor."
5. Cross-platform tools become a necessity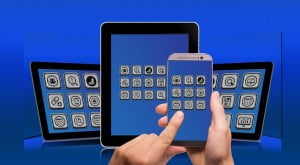 Most IT departments aren't prepared to address this growing demand for mobile apps. They're already bogged down with traditional application development, along with their other tasks.
To make matters worse, native mobile development requires new skills and time–luxuries that many businesses don't have.
The result: We'll see a growing demand for cross-platform development tools. As explained below, these tools help businesses create cross-platform apps using their existing resources.
"Despite the market settling on Android and iOS for mobile devices, there is still a very real need for making it easier to develop mobile applications with mainstream skills," says Grange. "Even if a business is only planning to target one platform, their developers should still seriously consider using cross-platform tools before jumping into purely native development. Not only is the learning curve shorter but these platforms are at a point where they can do pretty much anything you can natively. If they can't then they can be extended to do so by writing native libraries. Generally, these cross-platform tools allow the developers to be more productive."
6. Progressive Web Apps gain steam
Proposed by Google back in 2015, Progressive Web Apps (PWAs) have grown in popularity. As defined by Google, "Progressive Web Applications take advantage of new technologies to bring the best of mobile sites and native applications to users. They're reliable, fast, and engaging."
Essentially, progressive web apps (or PWAs) are web applications and/or websites that feel like native mobile apps. They take advantage of the host of features on web browsers but deliver an app-like user experience. They work offline, provide near-instant loading, and have the ability to send push notifications.
Essentially, they combine the advantages of a native app with those of a mobile web app. As explained below, PWAs is a mobile trend to watch this year.
"Progressive Web Apps have been gaining in popularity lately and it seems as if media business are spearheading the charge," says Hernan Santiesteban, Founder of Great Lakes Web. "A Progressive Web App(PWA) is a website that has features normally found on native applications. The main selling points of this technology are websites that are more reliable, fast and engaging.

Statistics show that users will abandon a site if it takes too long to load or breaks down as it's loading. This is especially true with mobile users. PWAs help prevent slow or unresponsive sites by leveraging the ability to save some of the site's content that does not frequently change. This allows the site's main visual elements to load very fast. Target loading times from Google are suggested to be less than 1 second.

Additionally, PWAs are more engaging that regular websites. PWAs can be launched from the home screen with heir own app icon. A full screen experience can help keep customer focus. Push notifications can also be used to reengage users or deliver special offers."
7. Businesses jump on board the On-Demand Services trend
In a few years, on-demand service apps have grown from a novelty into an integral part of life. Things like grocery delivery, transportation, home repair, and much more are all available on-demand through mobile apps. This trend is not only disrupting industries, it's changing how people work.
"On-Demand Services is a mobile app development trend that is only getting bigger moving into 2018," says Marco Cirillo, Co-Founder of Kibii. "Non-game apps are experiencing more growth than mobile games, which is mainly a result of the rise in on-demand streaming apps such as HBO NOW and Netflix. However, it expands beyond streaming apps with users wanting other on-demand services such as haircuts, food, laundry, and so on. Uber and AirBnb already corner the taxis and rent-a-bed markets, but I think Uber for tutors, tradespeople, or haircuts will see significant growth."
What does this mean for businesses? With the growing popularity of on-demand apps, we can expect more and more businesses to jump on board, and deliver on-demand services via apps.
Summary
These are just 7 enterprise mobile app trends to watch this year, but the list could be much longer. Would you like to add to this list? Feel free to comment below!