Summary: Fueled by recent trends, the role of the IT department is changing. What trends are driving these changes, and how will they impact IT? In this article, we explore 5 ways that IT departments will evolve in the next 5 years.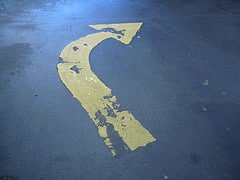 The death of the IT department has been greatly exaggerated. I remember seeing predictions that the cloud would eliminate IT departments by 2012. Over the last several years, I can't even count how many similar predictions I've seen.
The fact is, much has been written regarding the effect of tech trends on the IT department. Many say the IT department will disappear. Others say it will shrink.
Will any of that happen? I doubt it. We're living in an era where technology plays a larger role in business than ever before, and it's only growing. Is this the time to scale back on the department that best understands technology? Not for businesses that hope to succeed.
However, while I don't see the IT department disappearing, I do see it evolving. As consumer-owned mobile devices and third-party SaaS tools expand in the business, the IT department's role is changing.
Today, let's focus on that evolution. How is the IT department changing? What will it look like in 5 years? As this is such a large topic, we'll break it up into 2 parts. In this article, we'll focus on the first 5 ways that IT will change in the next 5 years.
1. IoT changes the data landscape
The Internet of Things (IoT) isn't a new trend, and it's already being used today. However, it's still picking up steam in the business world and shows no signs of slowing down. Analysts predict that IoT will continue to grow dramatically over the next few years.
How will this change the IT department? We'll see its impact in a couple of areas:
First, it alters the data security landscape. While connected devices offer advantages, they also widen the cyberattack surface. The IoT security burden will fall directly on the IT department's shoulders. IT departments will either have to add IoT security experts to their teams or learn the necessary skills to meet this growing need.
Second, IoT changes how we use data. As explained below, the true value of IoT data comes when combined with other data sources. IT departments must figure out how to best integrate these multiple data points and deliver maximum value to the business.
"Connected products mean the extension of the enterprise datacenter into the heart of customer operations, meaning the surface area of the network is expanding exponentially," says Marc Phillips, Director of Enterprise IoT for Bright Wolf. "More and more computing power is being moved to the edge, yet IT managers are still responsible for data management and secure access policies far beyond their internal network.

Data from machines in the field becomes much more valuable when combined with other enterprise data sources – CRMs, ERPs, and other systems under IT's control. This shift moves IT professionals from "data managers" to "data integrators" and smack in the middle of the value creation process previously controlled by engineering and business teams."
2. IT goes from gatekeeper to provider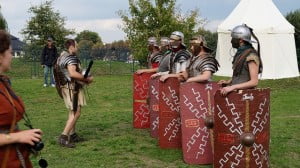 The IT department of the past controlled technology because technology was scarce, and difficult for end users to obtain and use. Those days are gone. Now, consumers can access technology that's just as powerful, if not more so, than business technology.
IT no longer controls technology, and this requires a fundamental mindset shift. No longer the technology "gatekeeper", IT must shift into the role of technology "provider." As explained below, IT departments must focus on providing the best available solution to the business.
"Corporate IT will no longer be about a datacenter but as a service catalog," says Kyle Bittner, Business Development Manager for Exit Technologies. "Amazon is the template for the future, a company driven by the joint collaboration between business operations and IT. It will be the job of IT to provide the innovation to help make new ideas concerning products and services come to fruition. IT will not be a technology gatekeeper, but a technology provider, finding the best available solution wherever it resides in the world."
3. Self-service will become the norm
In the transformation from "gatekeeper" to "provider," IT departments must eliminate the bottlenecks commonly found between IT and the business.
One such bottleneck lies in application delivery. Forced to request new applications (like reports) from the IT department, users often wait days before their request gets fulfilled. As mentioned in this article, this bottleneck is one major reason end users bypass the IT department–a growing trend known as "Shadow IT."
To eliminate this bottleneck and curb the growth of Shadow IT, IT departments will provide users with more self-service options. In the future, rather than go to the IT department for simple reports and applications, much of that will fall on the end users. IT will implement development platforms which let them manage the data and user access, and let end users address their own application needs.
"If IT were able to meet the application demands of its business in a timely manner, users would not look to third-party solutions–which they're doing with greater frequency," says Tyler Wassell, Software Development Manager at mrc. "To combat this problem, more IT departments will deploy self-service development platforms in-house. Development platforms deployed in-house allow users to continue their own basic development and report-writing while allowing IT to maintain security over data and user access. It's a win-win for IT and the business."
4. The skills gap drives more software partners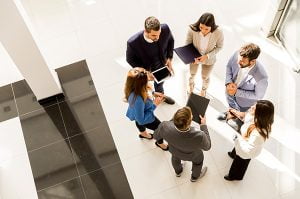 Over the last few years, we've seen the massive growth of new technologies. Areas like machine learning, AI, data science, etc… have now become important skills in the business world.
As a result, more businesses face an IT skills gap–a shortfall between the supply of qualified IT professionals and the necessary IT skills.
How bad is it? The research firm, Forrester, found that while 75% of businesses have a digital strategy, only 16% claim to have the skills to deliver it. Another study finds that a whopping 93% of businesses indicate they're facing a skills shortage.
The problem: The skills gap is growing, as more and more businesses jump on board the digitalization train. As explained below, this skills gap will push more projects outside of the IT department and to experienced software partners.
"We are currently only at the dawn of digitalization, meaning that the demand for an IT department is limited," says Marc Tuinier, Marketer at beeproger. "However, as more traditional firms and smaller businesses start to realize the benefits of digitalization, they will search for talent. Since there will be a gap between the supply and demand of ICT-Talent, firms will find software partners to help them succeed."
5. The IT Professional must understand the business
The divide between the business and the IT department has been well-documented. There's a never-ending push to align the IT department with the business. The sad truth is, they're both on the same team, but there's often a disconnect.
In the future, this will have to change. It goes beyond simple "IT/Business alignment." It's more than IT and the business working together. In a technology-driven world, IT must become an integrated part of the business.
"Today's CIOs are no longer allowed to simply support the overall business as a cost center," says Scott Rexroad, Founder of Lil-Tec. "They are expected to be a revenue source or an integral part of revenue and market creation. This requires an IT Professional to have an integral understanding of both their organization's product lines, business line structure, and current marketing campaigns. And all of this on top of their regular IT duties such as development (pick your language: Java, Python, C++) or operational support (DBA, Network support, etc).

All of this is putting more strain on IT Professionals to understand business and technology. They are also expected to move into leadership roles and have as HR call it the soft skills of team leadership, public speaking, and problem-solving.

The final result is that the IT Professional has now evolved into something much more than just the stereotyped IT Geek. Let's say a more well rounded IT Professional."
Summary
These are just a few ways that IT will change in the next five years, but we'll cover even more in a future article. Would you add anything to this list? Feel free to comment below!