If end-user reporting is a burden on your IT department, you're certainly not alone. The question is…how can you reduce the amount of time your IT department spends creating end-user reports?
One way to fix the problem: Create canned reports with run-time options for end users. This lets your users quickly access the data they need, while reducing the time your IT department spends creating reports.
Here's how it works: Your IT department creates the initial reports with run-time filters for the users. The users can select which data to display, or filter their data however they wish when they run the report. With the right run-time filters, users can use a single report in many different ways.
The best part: If you give end users a good variety of canned reports, it will significantly reduce the reporting burden on your IT department. So, what types of canned reports should you build? Here's a list of 5 reports that will let your end users access and analyze data in a number of different ways:
This is a pretty straightforward report with a ton of options. It lets users select from a number of different criteria at run-time, and even lets them export or email the reports straight from the browser. Want to see what this looks like? Try this prompted report demo.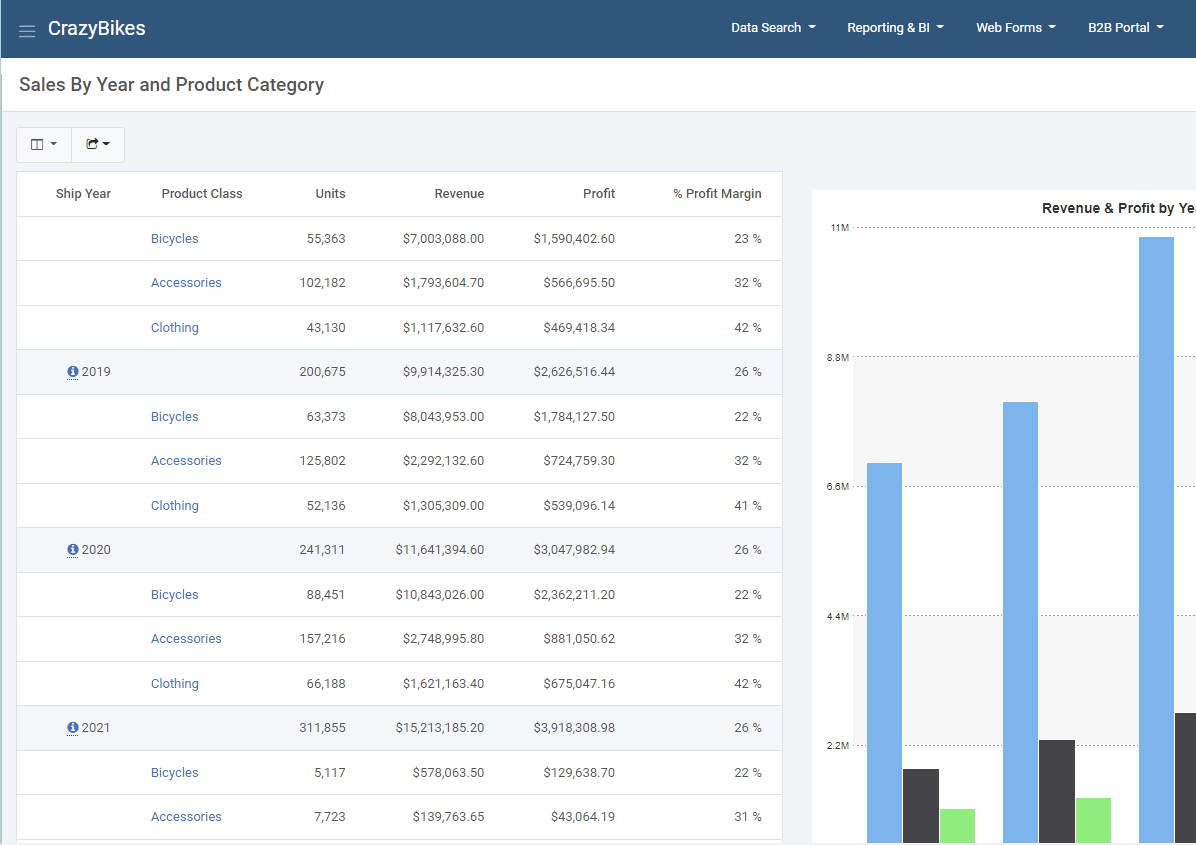 This is a business analytics tool that gives users a summary of their data (complete with graphs) and lets them drill down into more information. The great thing about the graphs: They are interactive. Users can also drill down to more information when they click on graph values. You can try a
drill-down report demo right here.
This lets users create top/bottom rankings over any aspect of your data. They choose from a number of different criteria at run-time, and the report delivers top/bottom rankings complete with a graph. It's a great way to see the best or worst of any aspect of your business. Here's a nice ranking report demo if you'd like to give it a try.
This gives your users a great alternative to the ever-popular spreadsheet-based pivot table. The best part: Web-based pivot tables are more accessible, more secure, and provide more options than the spreadsheet version. Check out a web-based pivot table demo here.
Interactive reports are great for data analysis. It starts out with a high level view of business data and lets users filter/sort/drill down to the most minute details within the same report. Interactive reports let end users analyze any aspect of your data within the same report. It's truly a powerful and flexible reporting option to have at your disposal. You can try an interactive report demo for yourself right here to see for yourself.