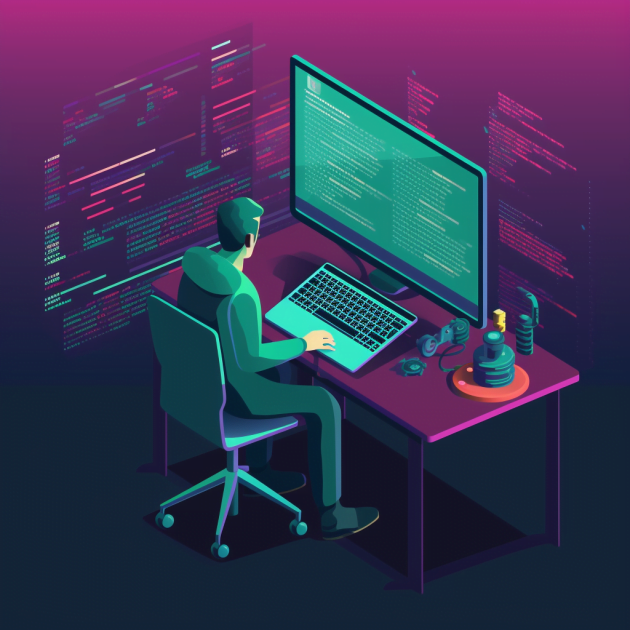 Low-code development usage is growing fast. According to Gartner, the low-code market will grow 20% this year. They expect it to grow even more next year.
But, you've probably heard these stats a thousand times. The low-code market has grown steadily for years. No one will argue that point.
The bigger (and more important) questions: We know that adoption is on the rise, but…how are these businesses using low-code? What are the practical use cases? What can you build with low-code? 
These are great questions, and ones that we hear a lot. In this article, we'll explore this topic in more detail and provide some concrete answers. But first, there are a couple of things you need to understand about low-code before I can explain the use cases:
a. All low-code tools are different
One of the most confusing parts about low-code is the fact that every tool is different. They have different interfaces, features, capabilities, strengths, and weaknesses.
For instance, Product X might focus on mobile apps while Product Y focuses on workflow. The primary use cases for each are much different.
Yet, they both fall under the "low-code" umbrella.
Even more confusing is the fact that many "low-code" tools aren't even in the same category. For instance, I see low-code articles comparing website builders with enterprise application development tools. That's like comparing a bicycle to a car since they're both methods of transportation. It doesn't make sense.
For sake of this article, we'll focus on enterprise low-code application development software. These are multi-purpose tools that create data-driven web applications over a database.
b. Low-code goes beyond what you can build
One of the biggest myths about low-code tools in general is the idea that they limit customization. Many people think that low-code trades development speed for flexibility.
The facts: This is true for some tools, but not all. Some low-code tools do limit your customization options. Others let you do anything.
You need to consider this when discussing use cases. How much control does the tool give you over what you build? Can you customize them to fit your exact needs?
For example, Product X and Product Y may both let you create a custom CRM system. But, Product X limits your customization options so it doesn't quite fit your needs. While they both have the same use case, they deliver different results.
That's the big difference you'll find as you explore different low-code tools. Some are very restrictive while others allow for complete customization. In terms of use cases, it's an important point to consider.
Low-Code Use Cases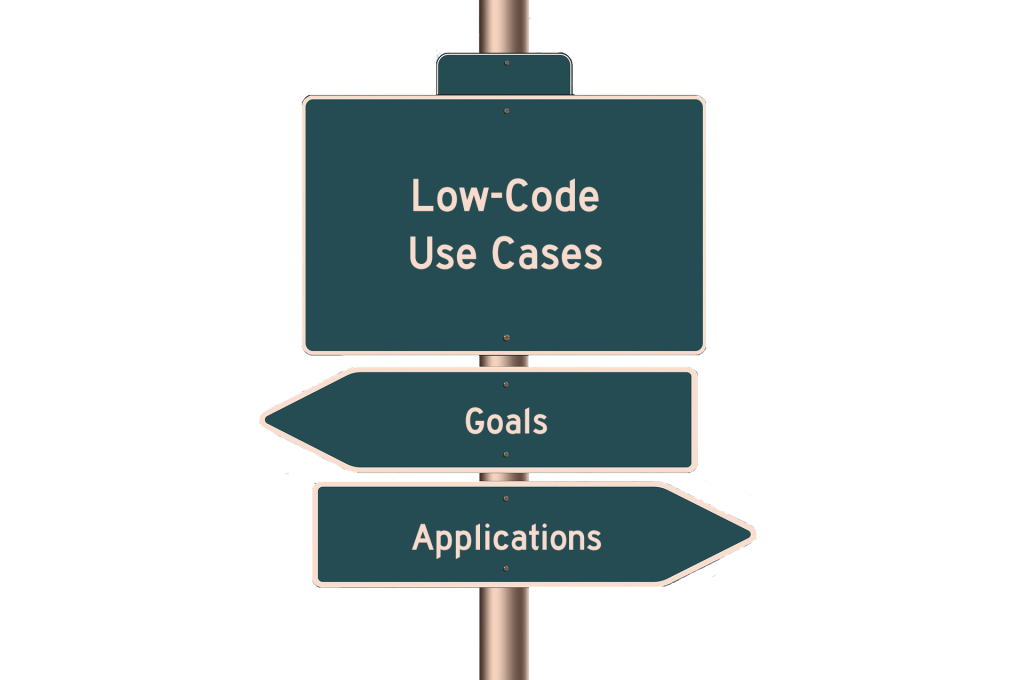 Now that we have those points out of the way, let's get on to the main event: Low-code use cases!
When it comes to use cases, I break it down into two categories: Applications and Goals. Let me quickly explain the difference:
An application use case is a specific application you'd like to build, like a CRM system, database front-end, customer portal, etc…
A goal-based use case means that you don't have a specific application in mind, but have a goal(s) that you'd like to achieve. For instance, you might want to improve time to market, allow for citizen development, or bring outsourced development in-house.
Goal-based use cases of low-code
Let's start with the goal-based use cases. Low-code development platforms are often used to:
Improve time to market: Low-code platforms can reduce development time by 50-80%. In my experience, this is one of the most common use cases for low-code development. The business wants to improve overall development time, and low-code is the answer.
Eliminate SaaS user fees: Many companies use dozens of different SaaS tools, all with separate user fees. More and more are realizing they can create custom web apps with a low-code platform and replace some of their SaaS tools. The best part: They eliminate the SaaS user fees they were paying, and actually save money with their low-code purchase.
Bring outsourced development in-house: I know of many businesses that used to rely on outside developers for their software development. They adopted low-code as a way to create apps in-house, using their current team and skills.
Automate business processes: Low-code platforms are used to automate business processes such as document approval workflows, invoice processing, or customer onboarding.
Modernize legacy systems: Organizations use low-code platforms to modernize their legacy systems. They either build brand new applications to replace their legacy apps, or build new apps that integrate with existing systems.
Enable citizen development: Sometimes businesses just want to offload simple development tasks to business users. Low-code platforms help non-technical users build applications without any coding knowledge.
Help with digital transformation: The sudden move to remote work during the pandemic forced many organizations to finally address digital transformation. Many turned to low-code platforms as a way to quickly create these digital solutions without falling behind.
Now, this certainly isn't a comprehensive list of goal-based use cases. However, these are some of the most common goals behind low-code adoption in my experience.
Application-based use cases of low-code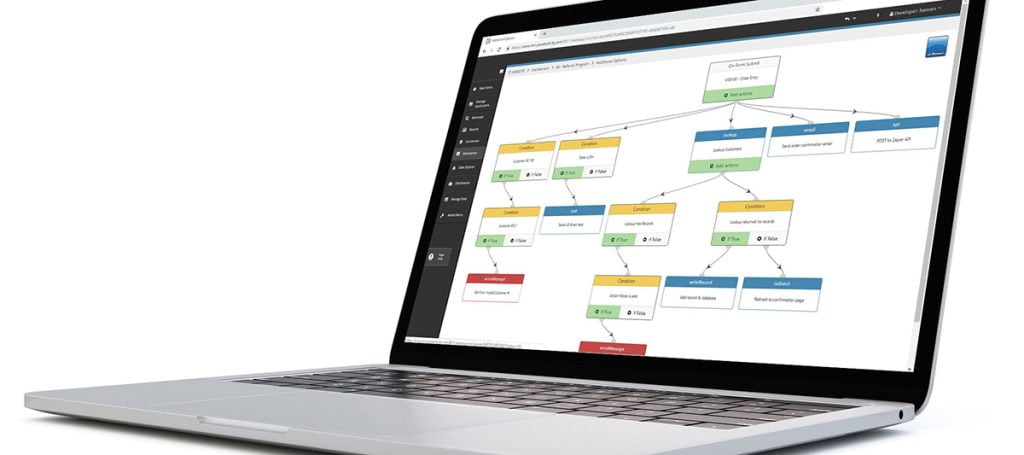 Now, let's explore a few application-based use cases of low-code platforms. Most often, we see businesses use low-code to create data-driven applications that are custom to their business needs. These use cases vary widely by the business.
I mention that because it's hard to say exactly what your business will create with low-code. Every business is different. But, that's one of the great things about low-code tools. They're used to quickly create custom solutions to address your unique needs.
That being said, here's a short list of application types commonly created with low-code platforms:
Customer relationship management (CRM) systems: These applications help businesses manage interactions with customers and automate various customer-related processes.
Workflow management applications: These applications automate workflows, helping businesses improve their operational efficiency and reduce errors.
Project management tools: These applications help businesses manage projects by providing tools to plan, track, and collaborate on tasks.
Data dashboards: These applications display data from various sources in a visual format, helping businesses monitor key performance indicators (KPIs).
Budgeting/Forecasting applications: Low-code helps businesses who need custom budgeting and/or forecasting applications to fit their requirements.
Human resources (HR) management systems: These applications help businesses manage employee information, automate HR processes, and track performance.
Inventory management systems: These applications help businesses manage inventory levels, track shipments, and forecast demand.
Financial management applications: These applications automate financial processes, such as invoicing, accounting, and budgeting.
Business intelligence (BI) tools: These applications provide insights into business operations by analyzing data from various sources.
Event management applications: These applications help businesses plan, organize, and manage events, such as conferences, trade shows, and webinars.
Web-based portals: Organizations create web portals as a way to securely deliver applications to their customers, employees, or partners.
Again, this is only a partial list of applications that low-code tools often create. I couldn't possibly list every option here. Remember, the true power of low-code lies in its ability to quickly create custom business applications that fit your exact needs.
Summary
These are just a few common use cases of low-code tools, but the list could me much longer. That's really the great thing about low-code: It's used to create all types of applications…each of which is custom to your business!