JSON Store Management
Several key m-Power features, such as Data Explorer and Dashboards, save end-user customizations in JSON files, located on your m-Power server. During normal use, end-users have the ability to view and delete any customizations they create. Historically, system administrators could only view and possibly delete these customized objects by logging directly onto the m-Power server and manually manipulating the JSON file. The feature described below helps administrators better manage these files.
Access the JSON Store Management utility by directing your browser to /mrcjava/servlet/DATADICTIONARY.DataStore. If dictionary secured is enabled, please log in accordingly.
Note: This feature is designed to work in both development and production instances.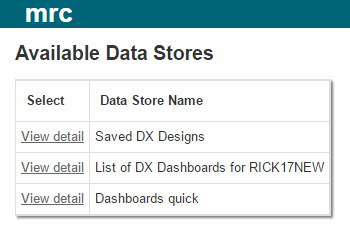 Saved DX Designs — Will show a listing of all saved DX Designs
List of DX Dashboards for CURRENT DICTIONARY — Will show a listing of all DX Dashboards for the current dictionary
All other files are associated with any traditional dashboards that users create
Once you've found the Data Store you'd like to manage, click "View detail".
You are now taken to a screen that allows you to search for any key text in the saved file, including things like the author and name of the saved element. While you cannot edit these files, you can delete specific saved options. One use case of this is that an employee who saved several different dashboards is no longer employed at your organization. You can clean up the file by deleting these records.